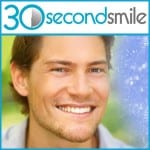 Can a contraption like 30 Second Smile really work? If you've ever felt that squeaky clean feeling right after your visit to the dentist you'll want to recreate it at home. It's a great feeling to have your teeth cleaned properly, as all plaque, food residue, and stains are efficiently removed from your teeth. You probably feel like smiling all day too.
When a system of brushing is introduced on the market that promises to produce the same results as a trip to the dentist, you will surely get interested. And that's what 30 Second Smile is all about. It's got one of those names that instantly give you an idea as to what it's promising.
The Overview
The 30 Second Smile is an electronic toothbrush. According to its manufacturer, this is not just any ordinary electronic toothbrush, as it uses revolutionary techniques that are not present in other brands of toothbrush or designs.
The Claim
This new revolutionary toothbrush claims that it can make your teeth sparkling white, to produce the brightest smile that you can project. And not only that, it also guarantees that you will have healthy gums through the regular use of this device. In fact, it even claims that it can reverse the symptoms of gingivitis in as early as 2 weeks, by simply using the toothbrush regularly. Ease-of-use is also well advertised, as the toothbrush is said to clean all surface areas of the teeth, front and back, top and bottom, at the same time.
The Hype
Who wouldn't want to have a perfect smile in just 30 seconds of brushing your teeth? With a very catchy name and a well-advertised product, consumers are attracted by the offer. And the company also promises a lot of free stuff too, and this makes it even more enticing and convincing.
The Cost
A set of 30 Second Smile costs around $60. The company also offers a 60-day guarantee at which time you can return the product if not fully satisfied with its performance. You are also offered free brushes for life wherein you only need to pay for shipping and handling. This is a form of auto-ship and auto-billing that is popular for products like this. Be careful because many times these are hard to get removed and months later you'll get mysterious charges that you won't remember authorizing.
The Commitment
You are to use the 30 Second Smile electronic toothbrush every day just as you use your ordinary toothbrush. For best results, brush your teeth in the morning, before bedtime, and after every meal. Just bite onto the toothbrush and guide its movement inside your mouth. The bristles are made to be in a 45-degree angle and this allows for efficient brushing while also massaging your gums and removing the plaque from your teeth.
Evaluation
In spite of the great concept behind the 30 Second Smile toothbrush, the actual performance of the product is very frustrating. It's very hard to control and manipulate, and thus, it can't really clean the teeth properly. A lot of consumers who have used the device also report that it has not produced any significant results even through regular use. The price of the product doesn't include shipping and handling, so you would actually be spending a lot of money for this electronic toothbrush. And should you try to use your privilege of getting the "free" toothbrushes, the company will charge you with high shipping costs so you're really paying for them.
Final Review of 30 Second Smile
No. This supposed revolutionary toothbrush fails miserably as a teeth cleaning device. It is angled in such a way that makes it difficult to use and you can't reach all areas in your mouth that need proper cleaning. And the quality of the unit is substandard too. User feedback reports rusting along the battery area of the device and this causes the warranty to be considered null and void. And if you get the hang of using your 30 Second Smile electronic toothbrush, you will also notice that the battery depletes quickly and can therefore prove to be costly.
Our Recommendation
We are not recommending it at all. Don't waste your money on this device, as it really can't deliver on its promise of giving you healthy white teeth. You can't rely on the 60-day guarantee either, as many consumers have reported that their money was not returned even with repeated demands. If you are really keen about getting an electronic toothbrush, you can try other reputable brands instead, but definitely not this one!
What do you think? Does 30 Second Smile work?