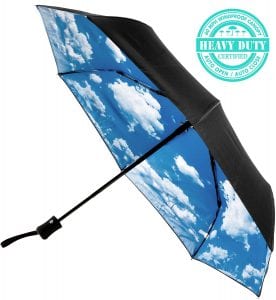 Let's face it we all have to go out on occasion when the weather is rainy and windy. Usually, we just say forget about the umbrellas because we know what a hassle it's going to be with the wind. So it's heads down and weather the storm. Until now that is. Let's see if the 60 MPH Windproof Umbrellas are the solution.
Overview
Really what we are looking at here is not that the umbrella will not turn inside out but that it will not get damaged if it does. If you have every got caught in a rain/wind storm then most likely you have had to replace your umbrella afterwards.
The Claim
The Company is claiming that it is the design of the 60 MPH Windproof Umbrellas that make them unique. It is comprised of what they call action relief joints and a Memory Flex Frame. This design actually causes the umbrella to flip inside out but one simple movement restores it back to its original shape once again.
The Hype
Really the hype focuses on two things. One that you will be easily able to restore the 60 MPH Windproof Umbrellas back to their protective state almost immediately so you can continue on with your battle with the wind and rain. The second factor is you won't ruin it and you won't have to replace it because of wind damage.
The Cost
The 60 MPH Windproof Umbrellas each cost $24.95 but they come with a guaranteed lifetime replacement.
The Commitment
The only real commitment you will have to make is not to get caught in a storm without it. The great thing is that it is compact so you can just keep it in your bag or purse for that moment when you get caught unexpectantly.
Evaluation
The 60 MPH Windproof Umbrellas has a lot of good features about it although at first the name is a little deceiving. It makes one think that it is resistant to inside turns unless the gusts are past the 60 MPH. When really it's all about it not getting damaged.
Final 60 MPH Windproof Umbrellas Review
We are going to give the 60 MPH Windproof Umbrellas a thumbs up rating. It is well received at Amazon with a 4.5 star rating out of 1,088 reviews. So it obviously does what it says it will. The price is reasonable although you can buy umbrellas that are cheaper. Then take into account how many times you have had to replace them. Aside from this there are some great colors to choose from and they look really trendy. We like the fact that they are compact and they are comprised of some good quality components.
Our Recommendation
Unless you never have to expose yourself to the wind and rain then we suggest that you invest in the 60 MPH Windproof Umbrellas. Almost all of us need one of these useful devices around the home, so why not invest in a quality one. Now while we are on the topic of umbrellas there is a different kind that you may want to take a peek at, especially for the summer months. Check out the Bug Out Brella.
What do you think? Do the 60 MPH Windproof Umbrellas work or not?