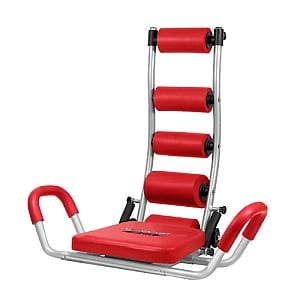 The Ab Rocket Twister is yet another entry into the ever-increasing world of abdominal exercise machines. They say you can get rock hard abs by just investing 5 minutes a day, and they make the analogy that this is as easy as rocking in a chair. But can something that easy, and for that short of a duration actually produce results?
Overview
Who wouldn't want a sexy midsection? The only problem is, it's not easy to get, which is why most people don't have one, and why we hold those that do up on a pedestal. Most of the abs products out there tap into our innate wanting of the perfectly sculpted six pack. By making it seem like it's within our reach, and not only that, but that it's so easy it's basically an inevitability that we'll get it, we jump online or call to order right away. It's only when the left brain kicks in that we start to doubt that it would work, and start checking to see if others have had success with it.
The Claim
The Ab Rocket Twister makes several claims, which is not unusual for fitness gadgets. Their biggest claim is that you'll get a better workout from this than you would from doing the old standby of crunches or sit-ups. They also say that you can basically sit back and relax while the machine does most of the work. They also say that this is a complete system, so not only do you get the core unit, but they also have a DVD that shows you some exercise programs you can do on it, and they also include an eating guide, so you know what you should be eating to see the most results in your stomach area.
The Hype
The abs are some of the most hyped muscles on the human body, both for men and for women. Men want to have a six pack, and women want the long, lean ab muscles that show off on a slender waist. But few people actually have visible ab muscles, which hints at just how hard it is to get them. It's a bit to do with genetics, but also it's due to the fact that it takes a combination of factors, all coming together in the right amounts, including eating, exercising, and lifestyle.
The Cost
The Ab Rocket Twister is $165, and is broken up into 4 installments. The first is $15 which lets you try it out in your home for 30 days. If you like it, they bill the same card $50 for three consecutive months. The initial $15 is refunded if you return it, as it's not considered a shipping and handling fee.
The Commitment
This is what trips up most people. Ab machines especially get it into your head that you won't have to do much. Even if there was a machine that would work your abs out with zero effort on your part, you would still need to get into the machine every day in order to see results. With this, you're going to be the one to get into the rocket and do the ab routines they show you. It may not be strenuous, but it will only work if you use it.
Evaluation
The Ab Rocket Twister shows people giving testimonials of all the weight they lost. That is a bit misleading because the machine itself will likely not cause you to lose weight. The kind of not aerobic or cardio workout you can get from it would be pretty limited. So the people they are featuring most definitely were watching what they ate, were doing additional workouts, could have been taking diet pills, and just so happened to also be using the Twister. The machine should be thought of as giving you the finishing touch you need to develop your abs, but it's going to take sensible eating and additional exercise if you want to do anything like a total body transformation that you see in the advertisements.
Final Ab Rocket Twister Review
The Ab Rocket Twister is getting some of the most evenly mixed reviews we've ever seen, which won't help you make up your mind whether to get it. What this usually represents, at least for fitness products, is that some people made up their mind to use it no matter what it was like, or how well it worked. They then saw some results and were happy. Others were skeptical, and bought it ready to scrutinize it, maybe use a few times, and then blame it for not being the perfect answer to their abdominal problem. What we're seeing is that there are some issues with the quality, some issues with ease of use, and also some people that like it and say it works fine. We say try it if you really like it, but keep in mind the 30 day trial period and only keep it if you love it.
Our Recommendation
Your abs and core are definitely important, so if you've been leaving them out of your current exercise routine, it's high time you get them involved. It helps with things like back pain, balance, and overall stability. They can help you get through your daily tasks and still have enough energy at the end of the day. But don't think that one machine is going to get you to the promised land. Use this or another abs machine as part of a comprehensive approach to weight loss, healthy eating, fitness, and well-being.
What do you think? Does Ab Rocket Twister work or not?