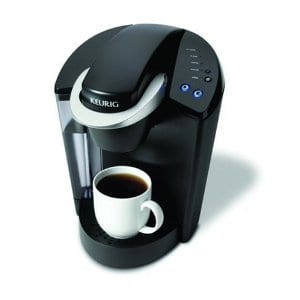 The Keurig B40 is a one cup coffee maker that lets you avoid making an entire pot when you only want one cup. It works by using what they call K-cups, individual sized servings of instant coffee that are designed to fit into the machine and produce either an 8 or 10 ounce cup of Joe. But how well does it really work, and a people happy with the quality of the coffee it produces.
Overview
The traditional coffee maker was due for an overhaul. It doesn't necessarily make good coffee, and most of the time it makes too much of it. You either end up drinking more than you wanted, or throwing some out. It also uses lots of electricity to keep the pot of coffee hot while you enjoy your cup. But for a long time this was really the best way to make coffee, because making it a cup at a time just wasn't feasible. So the Keurig company decided to make one-cup coffee a reality.
The Claim
Keurig claims that their B40 model can make you an 8 or a 10 ounce cup of coffee in about a minute after warming up, and they say you can choose what flavor coffee you make from their growing library of choices. They say the unit is always ready when you are, and that it is automatic, meaning that it will turn itself off, you don't have to babysit it for the few seconds it takes to brew your cup. You simply place your coffee mug onto the unit, press the button and you can go off and do other things, confident that it will turn itself off at the right time.
The Hype
People can't help but tell their friends about these, and if you've ever been to a friends house who has one you probably couldn't help but ask how well it works. These have basically replaced traditional coffee makers in many homes across the country, and it's only a matter of time before they are the default coffee maker, until something better comes along to replace it.
The Cost
Keurig B40 is a little over $100 at Amazon. You also have to factor in the cost of ownership and ongoing use. You'll have to buy the K-cups to go into it, but these can usually be bought on sale, or in bulk, and there are generic brands as well. When you measure it against a coffee pot coffee maker it might be more expensive on a per cup basis, but still far cheaper than hitting up the local Starbucks every morning.
The Commitment
The Keurig models should all represent a reduction in the amount of time you spend making coffee. Instead of having to get a coffee filter out, and the coffee, and then clean out the coffee pot when you're done, you simply brew right into your cup, so clean up time is reduced too. The K-cup cartridges are self contained, and disposable, so it's really a neat and tidy process.
Evaluation
There's not much to dislike about the Keurig B40. It's elegant looking and stylish on top of getting the job done. It's a conversation starter if you have friends over that either have one of their own, or don't have one yet. They last for years, and are relatively quiet so you don't have to wake the house up in the morning when you just want a simple cup of coffee. There are also many different blends, so you won't get bored with the same cup day after day. They have variety packs for that exact problem.
The overall taste of the coffee has been noted as being better than your run-of-the-mill kind you get from brewing a whole pot. This is especially true if you end up drinking your coffee after it's been sitting on the heating element all morning. With a Keurig you're guaranteed to get a freshly brewed cup every time, right when you want it.
Final Keurig B40 Review
The Keurig B40 is getting our Thumbs Up rating. It lives up to all of its claims, and functions the way you'd expect it to. The convenience factor is what swayed us the most, it's just so easy to make one cup, or several, and we like that the kids can get involved with things like hot chocolate and iced tea. It's really got enough variety for the whole family, and it's fun to use.
Our Recommendation
We like the Keurig models and recommend them with no reservations. If you're upgrading from a conventional coffee maker, you'll never look back. If you're upgrading from an older model you should also consider the Keurig B60 which has a few more bells and whistles at a somewhat higher price point.

What do you think? Does Keurig B40 work or not?