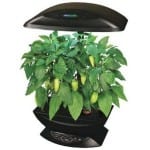 Hydroponics is growing in popularity and Aerogarden aims to make it hassle-free. Health conscious individuals are now keen on what they eat, and fruits and vegetables have become a necessity in every meal.
However, as the high rates of many diseases are now attributed to the presence of preservatives and chemicals in the food, eating fruits and vegetables can present some problems too.
If these have been sprayed by insecticides and pesticides, there's a good chance that some will be left on your food even if you wash these thoroughly before consumption. That's why organic gardening have become popular, as growing your own crops is the only way to make sure that these are chemical-free.
Overview
Aerogarden can be referred to as a compact indoor garden. You can grow lettuce, tomatoes, and even chili peppers in this very compact device right in your own kitchen. The system uses its own lighting system too so it doesn't need to be put out to get its nourishment from the sun. It is a totally indoor type of garden that's truly organic in nature.
The Claim
The Aerogarden claims that you can grow crops right in your own kitchen with no mess and hard labor involved. You don't even need a green thumb to be successful in tending your indoor garden, as the seeds are already pre-planted and pre-arranged for you. The method is easy and all you need to do is water the plant and supply the needed nutrients to keep it healthy and flourishing all year round.
The Aerogarden claims that it can provide you with a continuous supply of crops all throughout the year. And through the advanced system integrated into the concept of the Aerogarden, it can even make the crops grow 5 times faster than crops grown directly in good soil.
The Hype
Who wouldn't want their own vegetable garden in the kitchen? This is particularly appealing to cooks, as they can simply gather the things they need from the kitchen countertop just as they're cooking. It's more convenient than always having to buy from the grocery store and it's more practical and economical too. Having a vegetable garden in the kitchen will inspire you to cook healthy meals and prepare vegetable salad for the family every time meals are served.
The Cost
An Aerogarden set costs around $100. This already includes a full set, so you simply need to set up the unit in your kitchen and it's ready to go. You will notice sprouts in just a few days, and in weeks, your crops will start to flourish.
The Commitment
The concept behind the Aerogarden system of planting is not that different from the typical way of growing crops and other plant life. You need water the plants, and you need to provide nutrients for it too. Remember that these crops are grown inside the house, and it therefore needs special care. You will be alerted when it's time to water the plants and add the nutrient capsules, so it's really very easy.
That's what makes it different from traditional gardening, it is equipped with modern technology which makes it easier to grow and manage.
Evaluation
This product is really ingenious, and the concept behind it is well-planned and executed. Because of its modern design, you can now grow crops without exerting too much effort on its maintenance. You never need to weed it out and you can be sure that there are no pesticides on your food crops from now on. And because these are pre-seeded and ready to grow, all you need to do is set it up on the corner of your kitchen to start the process of growing your favorite herbs and vegetables.
Final Review of Aerogarden
The Aerogarden works as advertised and you can really grow crops in your kitchen through this compact device. However, not everyone seems to be successful in using this indoor garden. As with traditional planting, there can be instances when seeds just won't sprout and flourish into crops. And when this happens, you will need to buy additional pre-planted seeds to use with your unit.
Our Recommendation
In spite of having some negative reports, we are still recommending the Aerogarden device for your kitchen. More people have testified to its efficacy, and having a continuous supply of organic vegetables would be good for your health too. And because the Aerogarden only requires minimal maintenance, you will not find it too troublesome.
Official Website: AeroGarden
What do you think? Does Aerogarden work?