For those of you who have never heard of DampRid, it's a bucket filled with salt crystals which apparently absorb excess moisture out of the air. In doing this it reduces the growth of mildew and mold.
What is DampRid?
DampRid is a product that contains moisture-absorbing crystals to help minimize moisture in
Your home
RV
Car
Cottage
Boat
or any area where moisture is a problem.
A Good Product History
DampRid products have been on the market for more than 70 years. DampRid also controls odors caused by moisture like mildew and musty odors and stale odors.
This product is virtually a wireless dehumidifier, making this product extremely convenient. Many products like candles and sprays just cover up odours, they don't eliminate them. However DampRid products absorb and eliminate odors. This results in cleaner, drier air.
How Do DampRid Moisture Absorbers Work?
When the DampRid products which contain all natural crystals are exposed to air, they absorb moisture and slowly dissolve into a liquid brine, which is a saltwater solution. However, there may be an opposite problem. Which is not having enough moisture in your home. This is a problem that needs to be rectified as well.
DampRib only traps excess moisture and never dries the air to the point of damaging furniture, animals, plants and clothing.
DampRid works in three phases.
The first phase DampRid crystals absorb excess moisture from the air, then harden and form a solid mass.
The second phase is when accumulated moisture begins to drip into the bottom of the tub and about half to three-quarters of the crystals dissolve.
The final phase is when all of the crystals have dissolved and the bottom of the chamber is full of liquid. However, if using products that contain scented or fragranced beads a small layer will remain in the top chamber, these can be discarded in the trash and the liquid can be emptied into the toilet.
The DampRid formula is environmentally friendly and septic safe.
Where Can I Use the DampRid Products?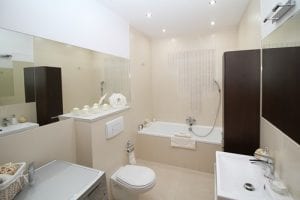 As DampRid products don't require electricity these great products can be used anywhere that moisture may be a problem such as:
Bathrooms
Garages
Closets
Laundry Rooms
Campers and RV's
Basements
Kitchens
Bedrooms
Boats
Office
Cars and Trucks
Transport Trucks
Cottages
Storage Lockers
Diaper Pails
Garbage Cans
They can be used virtually anywhere.
What DampRid Products Are Available?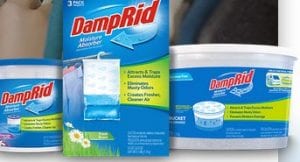 There are many DampRid products available in different forms.
DampRid Refillable Absorbers – a cost-efficient method for long term moisture and odor control. The packages of crystals last approximately 45 days.
Simply remove and discard the lid, open bag of crystals, pour crystals into the canister, place on a flat surface.
Once the crystals have absorbed moisture and harden, simply pour the contents into the toilet and flush.
The crystals are non-toxic and completely septic safe.
DampRid disposable moisture absorbers – for Campers and RV's. They are a single-use moisture absorber that controls moisture and odors.
This product is effective for up to 45 days, making it both convenient and cost effective.
When the all natural crystals have dissolved, the product should be replaced. The product is available in fragrance free 10.5 oz tubs and 18 oz tubs.
These Disposable Moisture Absorbers contain activated charcoal which removes tough odors.
This product can also be used anywhere, you simply remove the lid, peel off the foil covering, replace or discard the grill lid, place it on a flat surface until all crystals have hardened and dissolved, then discard the container once the crystals have completely dissolved.
DampRid Hanging Absorbers – These are hanging bags that protect clothing from musty odors and moisture damage. They are effective for up to 60 days.
Discard once the all natural crystals are gone.
This product is ideal for closets, gym lockers, bathrooms and laundry rooms. The hangers are available in fragrance free bags, citrus , fresh scent and Lavender Vanilla.
The product is easy to use, simply remove it from the carton, remove and discard the clear plastic wrapper, unfold the bag and hang it to allow air circulation.
Once all the white crystals have dissolved, (fragrance beads do not dissolve), while keeping the bag in an upright position, discarded in the garbage.
High Capacity Moisture Absorbers – These 4 pound tubs easily absorb moisture and odor within a 1000 square foot radius.
They control and eliminate mildew, mold and musty odors.
This product is constructed with moisture lock technology which prevents spills and keeps moisture locked in.
Replace once the all natural crystals are gone and the dark moisture lock absorber reaches the red arrow.
Odor Genie – available in 8 ounce containers destroying odors for up to 60 days.
Choice of Wild Berry, Lavender Vanilla or Clean Meadows scents.
This product contains an added layer of charcoal to continuously absorb odors. Great for use in trapping kitchen, paint, pet, kitchen, bathroom and baby's room odors. Great to use in vehicles to keep them smelling clean.
Very easy to use simply pull off the label and place on a flat surface.
Drop-In Moisture Absorbing Tab and Unit – This product utilizes a 15.8 ounce moisture-absorbing tabs.
Moisture is caught and trapped in the spill-resistant bottom, eliminating odors while leaving a fresh scent.
The drop in tabs are easy to install and the accumulated liquid can be poured out the spout.
Provides long term economic value as only the tab refills have to be purchased. Simply remove the container from the box, remove the bottom tab from the pouch and place it on top, snapping it into place.
Place the absorbing tab in the top of the container and place on a flat surface.
*Note: always pick up the container by the bottom. This product is great for basements, boats, campers, storage units, kitchens, offices, and laundry rooms.
How Do I Properly Dispose of the DampRid Products?
The refillable DampRid products should be disposed of by emptying any liquid into the toilet and then refilling with new crystals. The disposable products are simply disposed of in the garbage. Always keep DampRid products out of reach of children and pets.
How Much Do the DampRid Products Cost?
Cost of DampRid products varies depending on which products you are purchasing. They can be purchased as various places like hardware stores, Costco, The Home Depot,  Bed Bath and Beyond, Amazon and the DampRid website. The DampRid website offers savings coupons.
Customer Reviews
Customers have given the DampRid Products an overall rating of 4.4 out of 5 stars. Many customers highly recommend the use of these products and have stated they work very well.
Recommendation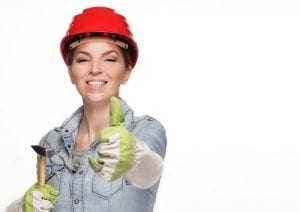 We highly recommend the use of DampRid products to help minimize excess moisture where you need it most. There are several products available for different uses. They are reasonably priced and can be purchased in multi-packs to add more savings.
Please share with us your experiences with DamRid – good or bad. Your opinion counts.