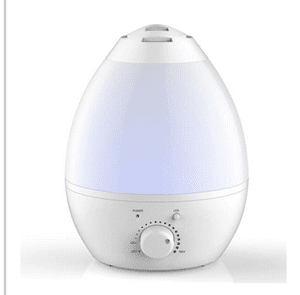 In today's society pollution is a problem that is plaguing our everyday lives and unfortunately in some areas it is worse than others. Having the Ultrasonic Colour Changing Humidifier can actually help you with your breathing problems, and because of its other unique qualities, it can help in a variety of ways that is unique to only this humidifier.
Overview
The Ultrasonic Colour Changing Humidifier utilizes ultrasonic technology to emit a cool and healthy mist, helping to add moisture to the air that can very much soothe coughing and help ease problematic sinus congestion.  One great addition to this particular humidifier is that it has seven built-in therapeutic lights, that not only add to the perfect ambience with the press of a button, but it is great for having the extra light in a nursery or small child's room when needed.
The Claim
The claim of the Ultrasonic Colour Changing Humidifier is that you will receive an ultrasonic drop shaped style humidifier that comes with built-in seven colour LED night lights, and delivers a whisper quiet cool mist that you can adjust to your own requirements. This unit also doubles as an aroma diffuser, so you are able to utilize different types of essential oils and there is no filter required. The tank has a one gallon capacity, so it is able to run for 24 HRS at a time, and it has an auto shutoff feature as well.
The Hype
Obviously the big hype with the Ultrasonic Colour Changing Humidifier is that because it is made by Bell and Howell, you know already that it is durable and built to last. Many people like the fact that there are seven individual light settings to utilize, and you can even have a color rotate option to make it more interesting for children, or even just for a certain ambience around the home.
The Cost
The cost at the As Seen on TV website is $29.99 reduced from $69.99
The Commitment
The ultrasonic humidifier, such as the Ultrasonic Colour Changing Humidifier from Bell & Howell uses a ceramic base that vibrates at such a high frequency, that when water touches this plate, it is automatically broken into ultra-small droplets that end up leaving the unit in a small mist. This ultimately releases a cleaner mist than any other type of unit, and is better for any home.
Evaluation
In addition to having the nice night light with Ultrasonic Colour Changing Humidifier, generally you'll receive other advantages like energy efficiency, as well as the limited noise, low maintenance and the easy cleaning that comes with this type of humidifier. Another big benefits to this product is that ultrasonic humidifiers greatly reduce the chance of any type of burns or fires that can be caused with this type of unit, so it is often far more acceptable for use in a child's room or nursery.
Final Ultrasonic Colour Changing Humidifier Review
What makes the Ultrasonic Colour Changing Humidifier even better than the other humidifiers, is that although generally they are more expensive, they are able to eliminate far more bacteria in the air, making it healthier for you to breathe in your own home. We are prepared to give the Ultrasonic Colour Changing Humidifier a thumbs up.
Our Recommendation
For something a little different but still dealing with the humidity in the air check out the Aqua Stone.
What do you think? Does the Ultrasonic Colour Changing Humidifier work or not?
[kkstarratings_custom_footer]