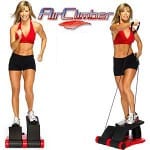 The Air Climber is just one of the many fitness training programs that exist on the market today, and it has been getting a lot of attention. There's not much too it, but it appears as though it could work. Can you really get an aerobic workout of the same caliber as the climbers at the gym, but at home?
Overview
Air Climber was developed by US Aerobic champion Brenda DyGraf. She is a well-known fitness expert and she has also starred in over 100 fitness videos. This makes her not only recognizable but also believable when she sys that this new training method can be an effective workout machine. The product has 2 steps that have springs underneath in order to be pressed down during the exercise routine. It is also equipped with 2 harnesses or cables that you can pull to strengthen your arms.
The Claim
The Air Climber is claimed to be a fun form of exercising. And during the routine, you can simultaneously work on your cardio while losing weight and tightening your abs too. The system also promises no sore joints during the routine, as it uses the principle of air to eliminate the hard impact on your joints and muscles.
You can therefore burn calories and tone your legs effectively without being sore all over. And if you're serious about losing weight, the system claims that you can lose 10 pounds in just 10 days if you intently follow the instructions given in the program.
The Hype
Exercise routines have the impression of being hard work as you need to work on different areas of your body to achieve the perfect look. So when a new system is advertised, and claims to offer a fun way of exercising and losing weight, consumers are immediately caught in the hype.
The Cost
You can try the Air Climber program for a full 30 days for only $15. The Company will send you a DVD set along with the air climber exercise machine. If you like the product and decide to continue with your purchase, you just need to make 3 additional payments of $40 each. The full program is backed by a 60-day money back guarantee, at which time you can return the product and your money will be refunded to you.
The Commitment
This program can be done 20 minutes to 1 hour each day. And if you incorporate a good weight loss meal plan in your exercise routine, you can achieve great results in just a matter of weeks. You should also avoid munching on junk food and eating at fast food restaurants in order to avoid foods that are high in fat and cholesterol. Eating fatty food while trying to lose weight is counter-productive and your efforts will only be wasted.
Evaluation
The Air Climber workout routine and weight loss plan is actually a good product. It combines the system of exercising and dieting through healthy meal plans. It is not like other crash course diets that will require you to take hunger suppressing pills just so you can lose weight immediately. The system requires that you do some exercise routines in order to get rid of fat and trim your body naturally.
Final Review of the Air Climber
Yes, the Air Climber works, but you shouldn't expect it to deliver its promise of making you lose 10 pounds in 10 days. Only the really dedicated ones can achieve this result and you will need to spend about an hour each day on this vigorous routine if you are after losing those 10 pounds in 10 days.
Otherwise, you will only be losing a few pounds every week, which is also good and healthy. Note that there are also some bad reviews about this product. As with all exercise systems, the Air Climber is not for everyone, and there will be those who will be disappointed with this exercise machine.
Our Recommendation
We recommend that you try the product for 30 days, and simply return it if you don't think it will help in your weight loss plans. During the 30 days, you can get a feel of the product so that you can make an informed decision, as to whether the exercise machine is good for you or not.
What do you think? Does the Air Climber work?