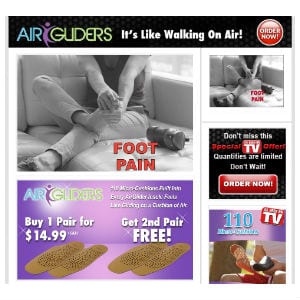 Air Gliders are insoles that are supposed to make it seem like you're walking on a cloud of air. With so many insole options it's hard to know if this is the best one for you, so let's see how they stack up to the competition.
Overview
Foot pain occurs for many of us that spend a lot of time on our feet, either because of work or just an active lifestyle. Most shoes on the market don't really have a great insole, and aren't built to withstand being on your feet a large part of the day. Many certainly don't have air cushions in them, and half the time they don't have much cushioning at all, especially dress shoes, the kind we're expected to wear to work or perhaps a formal gathering.
The Claim
The makers of Air Gliders say that the feet take a beating each day because of all the pressure we put on them, and that can lead to aching joints, knees, and backs. They say that each insole contains 110 air cushions, and that no matter what your shoe size is their insoles will fit.
The Hype
If you have foot pain, or just have sore feet at the end of the day, this commercial definitely caught your attention. It's a great example of creating a product that treats a common problem shared by many. They show the egg test in the infomercial, which bounces off the Air Gliders and smashes on a regular insole. They also did a test where runners ran 5 miles in dress shoes that had Air Gliders in them.
The Cost
You get two pair of Air Gliders for $27, and since it's one size fits most you can share the other pair with a friend or partner, or simply save it for when it wears out so you have a backup. In the promo ad they say that you get two for $10 but that's not exactly true, so don't be surprised when the total charges come out to nearly 3 times that much. And also, if you choose to return them, you'll only get back that $15 they're calling the product price. This means that they're charging $12 to shop two insoles that should weigh very little.
The Commitment
You'll have to cut these down to the size you need them, because they provide enough material to cover the largest shoe size, but the air cushions are placed on only the inner part, where your foot would go.
Evaluation
There is no reason why these insoles wouldn't work, as they are putting cushions under your feet, which are going to feel better than not having them. Whether this results in less joint soreness and a back that aches less is another matter. Dr. Scholl's inserts don't go as far as making the claim that your joints and back won't hurt as much, and they've been in the insert game for quite awhile. A better expectation for these would be if they could just stop your feet from hurting.
When you look around at what else is out there, and what price it's going for $13 for a pair of insoles doesn't seem bad. Here is a pair of highly-rated insoles Superfeetm and they go for $35. So you have to keep in mind what your other options are, and whether this is a good deal or not. You don't want to buy these and find out that you should have gone with a more expensive, but ultimately better choice. In this case we feel that you are likely to be satisfied with Air Gliders, but at the same time it might not be the last pair of insoles you buy.
Final Air Gliders Review
Air Gliders are getting our Solid Try rating. At the very least you'll be getting a cushiony insert for your shoes, and at best you'll be getting a relatively inexpensive solution to foot pain and pressure. The likelihood of returning them is very low, since they have a good chance of working at least to some degree, and from what we've seen in regards to user feedback, it appears that these work for most and are recommended by those that have bought them.
Our Recommendation
The reason that these earned a trial recommendation from us is because you won't be left high and dry, even if they don't work as well as they are shown to in the promo video you probably saw on TV. We're always skeptical about a product that is sold in a manner like this, where you're paying nearly as much as the product costs just to ship it. It means the manufacturer wins no matter what, but at least with this product you know it's going to work at least a little.
What do you think? Do Air Gliders work or not?