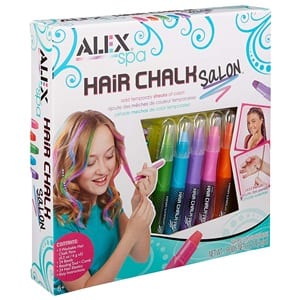 A lot of little ones love to play dressup and do funky things with their hair. Then when they get into their teens dress up becomes for real and what they do with their hair is no longer play. This is where it can get precarious when the young ones make the decision they no longer enjoy their hair colour. Perhaps having the freedom to use a non permanent product to create some hair colour would be a solution. This is where Alex Spa Hair Chalk may be of some interest.
Overview
Alex Spa Hair Chalk is a product that allows an individual to add some temporary vivid colours to their hair that they can change each day. It comes with a nice selection of vibrant colours that are sassy and bold.
The Claim
The claim for Alex Spa Hair Chalk is that it easily washes out with shampoo. Which is great as a lot of people shower everyday anyway and when doing so they shampoo their hair. But there is more to the
Alex Spa Hair Chalk Salon. It also comes with 24 beads for hair beading along with a beading tool and the elastics needed to hold them in place.
The Hype
The hype for Alex Spa Hair Chalk applies to both the young people using it. They don't have to worry about the hassles they would normally get from their parents when they want to try something dramatically new with their hair like changing its colour. For the parents the hype is resting assured that no matter how shocking the look is with the Alex Spa Hair Chalk it washes out.
The Cost
The cost for the Alex Spa Hair Chalk is $9.69.
The Commitment
There is no commitment when it comes to the Alex Spa Hair Chalk except to have fun with it.
Evaluation
The evaluation for the Alex Spa Hair Chalk means looking at both the favorable as well as not so favorable comments. Overall the Alex Spa Hair Chalk has 1,140 reviews giving it a 3.4 star rating out of 5. Breaking this down there are about 628 positive reviews but 512 top critical reviews. So about 42% have given it a five star rating. Some of the good reviews are that the colors really work great even on dark hair. When applied properly it doesn't rub off on the furniture. Others think that with all the great features it has the price is really reasonable.
Now looking at those who were not happy with the product their complaints range. Some complain that the Alex Spa Hair Chalk is more like a wax as opposed to a chalk. There are also some that have said it does not work on dark hair. Then there are complaints about it being messy.
Final Alex Spa Hair Chalk Review
Overall we are going to give the Alex Spa Hair Chalk a thumbs up. It is a best seller on Amazon. For a product that would be expected to have limitations a 42% approval rating is pretty good. There is no harm in trying it as it seems comparable if not better than products similar to this.
Our Recommendation
For the adults interested in more serious hair care products there is a specific one for women of color that may be of interest.
What do you think? Does Alex Spa Hair Chalk work or not?