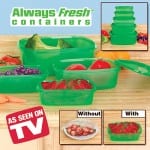 If you've ever felt the disappointment of throwing away good food that's gone bad you probably wondered if the Always Fresh Containers really work? After all, no one likes wasting money, and when we toss out food that didn't get consumed, it's basically what we're doing. But can these containers possibly live up to the claims made of them?
Overview
Conventional storage methods do leave much to be desired, and there's always a company that comes along promising the next best way to store leftover food. For awhile there it was vacuum sealing. Now it's the Always Fresh Containers.
The Claim
They claim a lot of things, but mostly they claim that you can store your food for weeks on end and it will still be edible. They say, quote "food stays fresh for weeks".
They also drop some pseudo science and introduce a lot of buzz words and newly coined terms. They mention ethylene gas as the reason why foods spoil, which may be factual, but then they go on to state that their containers employ some sort of nanotechnology, which doesn't seem feasible. For a company to use cutting-edge molecular robots in a product that is disposable-priced seems hard to believe.
They show all sorts of foods that typically go bad like moldy cheese and moldy bread. They also show overripe bananas, rotten carrots, and rotten tomatoes. These are all things that most of us have seen go bad, and it triggers the memory of the sights and smells we experienced, hopefully getting us to buy.
They use the term crystalline freshness, but don't explain what it means.
They also claim that their containers give no freezer-burn, are microwave and dishwasher safe, and that the average person throws out $1200 in wasted food each year.
The Hype
The hype comes when you stop to question why in the world you would want your food to last for weeks and weeks. Really, there's only a need to save for for a day or so as you're able to consume it in the following day or two. If it takes weeks and weeks to get to it, it either didn't taste good enough to have again, or there's just enormous quantities of it.
From watching the ad it's easy to get caught up in the moment and convince yourself that you need to store all of your food for the long term. But food is meant to be eaten while it's fresh, not packed away in storage for a later date. There's no benefit to eating food that's been sitting around that long, as opposed to eating it when it's fresh.
The Cost
With all of the space age technology, these containers are still priced about as much as the disposable kinds found at the supermarket. You can get them for around a dollar each, and the company will send you replacements whenever you want them if you'll just pay the shipping charge.
The Commitment
You have to commit to having enough food on hand that you can't get to it all at once. Some of the items specifically mentioned by the company as being good for long term storage are cereal, chips, lunch meat, cheese, and fresh fruits and vegetables.
Evaluation
When put up head to head against conventional storage methods, and given the 20 days as claimed from the infomercial, Always Fresh Containers failed miserably. In all instances they perform just as well, and poorly as their disposable counterparts. In no way did they perform to the level that is shown in the ads.
Do the Always Fresh Containers Really Work?
No. Always Fresh Containers work as well as the containers made by Glad, and will store your food for short durations, but not the marathon sessions that are claimed by the company. This is an instance where so much hype went into a product and it exaggerates expectations to an unreachable high.
Our Recommendation
Don't store food for weeks. It's not natural. Food is organic and it's meant to break down. That's why it's meant to be enjoyed in the moment, not squirreled away for some unknown later date. Adjust your cooking so that you don't make so many leftovers, and eat foods within a reasonable amount of time.
What do you think? Do the Always Fresh Containers really work?