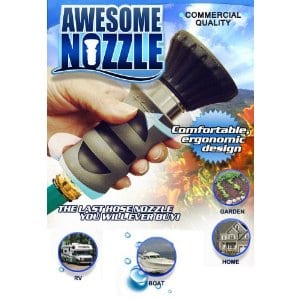 The Awesome Nozzle says you can use your ordinary hose as a high-pressure water system. It claims that it is gentle enough to use to water your plants, but can adjust to be powerful enough to reach second-story windows. Something like this could really come in handy around the yard, and for things like power washing decks, cars, boats, and RVs. But how well does it work, and is it really a rival the results you get from a professional power sprayer?
Overview
Most garden hoses leave much to be desired. They have puny water pressure, and you have to stick your thumb on the end of it just to restrict the water and create some pressure to get some distance on the stream. If you're used to using the standard spray gun attachment, you've probably wished for something that was a lot more powerful, easier to manage, and that could more easily switch between power levels.
The Claim
The Awesome Nozzle says that it doesn't matter if you have low water pressure coming to your hose, because they can increase it all the way up to 220 PSI. It's totally adjustable, so you can use it for different jobs around the yard, and everything can be controlled with just one hand. It's also got a comfort grip, which is nice because normal hose attachments can be hard to hold for long periods of time, especially if you have arthritis. Most hose nozzles are gun shaped, and put your wrist in an awkward position. This is ergonomically designed so that it's easy to hold for big jobs.
They say that this is the last hose attachment you'll ever need to buy. Because of its many uses, it removes the need of having several different nozzles for your hose, and switching between them based on the job you're doing.
The Hype
They say this is created by the same company that brought you the Awesome Auger so they're hoping for a little bit of trickle over credibility. It's always interesting to see a company try to branch out into another area, although technically they are both tools. The Awesome Auger is a little more complicated than this nozzle, but can tell that the same sort of research went into the design and the manufacturing process.
The Cost
The Awesome Nozzle is $27 and as a standalone product. It doesn't come with any accessories, and is all self-contained so you just attach it to your hose and you're ready to go.
The Commitment
This is supposedly easy to install, just by twisting it onto your ordinary hose. After that they say it's easy to use, and can be operated with one hand. It should make many jobs easier, but it also might get you to do other chores that you previously didn't, like wash windows, and spray down various items around the yard to get them clean.
Evaluation
Hiring a power washer is expensive, and so if the Awesome Nozzle can get you the same results, it would definitely be worth it. Since it's brought to you by the same folks that brought you the Awesome Auger, they know a thing or two about making a quality product.
Its Many Uses
Surely you've come up with your own list of things you'd do with this, but here are some of the most common uses for the Awesome Nozzle: You can use it to spray dirt and gunk off of car tires, to wash and rinse you car, truck, boat, or RV, to wash windows on the 2nd story without a ladder, to clean off decks, patio furniture, and other outdoor accessories, to water your garden or lawn while standing in one spot, to pressure wash kids toys, and to wash off the siding of your house.
Final Awesome Nozzle Review
The Awesome Nozzle is getting a definite Try rating from us, based on the history of the company bringing quality products to market. The design is solid, the uses are many, and the price is reasonable. With a versatile tool like this, it can replace the need to purchase other tools for your outdoor cleaning needs. Plus, it allows you to clean up without using chemicals, because of the high pressure.
When you consider your other alternative, nothing at this price point comes close to the comfortable grip and multiple uses it provides. It should provide several years of reliable use.
Our Recommendation
This is something that most people would find useful, and makes a good addition to your other yard tools. If you currently don't have a great way to clean up your outdoor areas, this will get you into the game. And if you just been using your typical garden hose gun, this will be a serious upgrade and you'll never look back.
What do you think? Does Awesome Nozzle work or not?