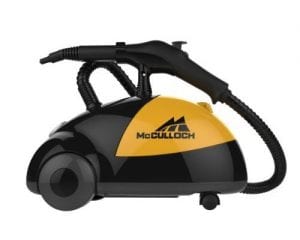 There are a good number of products on the market to help with all different types of cleaning chores. A lot of them come down to personal preference. One option is steam cleaning which raises the question as to whether the McCulloch MC-1275 heavy duty steam cleaner is a product that can be counted on.
What is the McCulloch MC-1275 Heavy-Duty Steam Cleaner?
This is a steam cleaner offered by the company McCulloch. It is a heavy-duty steam cleaner that offers a 1500 watts of steam cleaning power. It is designed to remove stains, mold, grease, and grime. From cars and trucks. To boats or your typical household cleaning jobs. The McCulloch steam cleaner runs on just water with no need for chemicals and is user-friendly. McCulloch steam cleaners have been around for over sixty years.
How Does It Work?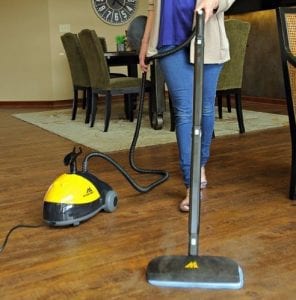 The McCulloch steam cleaner operates on tap or bottled water, whatever you have or prefer to use. That water is poured into the water tank. That water you poured is then heated up in the tank. Which takes eight to ten minutes for it to reach the desired temperature. Then the water has to get up to 200 degrees Fahrenheit for optimal use. Once it is heated up to the desired temperature, the steam cleaner will give you up to 45 minutes of continuous steam cleaning ability. It also comes with 18 accessories/ attachments to get almost any job done. Some of the attachments are: a power jet nozzle, floor mop attachment and scrub pads, to name a few of them.
Pros
Long reach
No chemicals needed
Can clean virtually any vehicle you own or drive
Removes wallpaper
18versitile attachments/accessories
Saves you money on cleaning supplies
Can be used on tones of surfaces (tile , carpet, leather, cloth, vinyl and lots more)
Lightweight
Easy to maneuver
Cons
Risk of burns ( due to high temperatures)
Might need gloves or googles
Excessive dirt ( might need an additional wipe down)
Reviews On The McCulloch MC-1275 Heavy Duty Steam Cleaner
Many users have offered their comments:
One User said
 I bought it mainly to clean the grout in my kitchen and this thing did an incredible job. Lightweight, easy to use requiring little effort to get the grout lines clean.
Another
With a sleek oval design, black and yellow color combination, long cord and steam hose, It's the perfect portable steam machine to carry around the house
Another
 This was on the top spot at Amazon.com for many years and I finally got it. Having owned a few similar devices over the years, this one is the most useful!
And Another
Great steamer, cuts grease effortlessly, made my hood filters for my business shiny like new.
Plus Another
Product is working great. However, the accessories deteriorate quickly. So far I didn't have any luck finding replacements in Canada
Overview
Why purchase a steam cleaner when you can use elbow grease for free? Well once you tried that and are getting tired and aren't seeing any results. It's time to think about purchasing a steam cleaner. It can take minutes to hours off of the job. With steam cleaners effective and proven ability to clean faster and more efficiently. So you had enough and you decide to purchase one. Now with this make and model the McCulloch MC-1275 heavy duty steam cleaner it offers something most other steam cleaners don't. Which is its ability to clean kitchen messes. Grease gunk and grime without contaminating your kitchen. Something to think about before purchasing a steam cleaner.
Cost
The cost to own a McCulloch steam cleaner is roughly two hundred and twenty-five dollars and upwards to two hundred and fifty dollars Canadian. Which is roughly the price of most competitors for the same power and promises they offer. For what the product offers you it is priced accordingly. As some competitors like Bissell steam cleaning products. Are priced anywhere from to hundred dollars to five hundred dollars. All which claim to give you the same results and almost identical attachments and manufactures warranties
Where Can You Buy The McCulloch MC-1275 Heavy Duty Steam Cleaner?
What's Included When You Purchase This Steam Cleaner?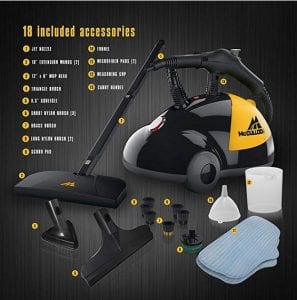 Steam cleaner and carrying handle
19" Extension cleaning wands(2)
12"-6" mop head
Triangle brush/ brass utility brush
Nylon brush (5)
Scrub pad/ microfiber pads (2)
Steam jet nozzle
5" squeegee
Water funnel and measuring cup
Conclusion
After searching high and low all over the internet for reviews and looking at the history of the company. I must say I'm thinking of buying one. McCulloch steam products have not only been around for sixty years but going on more. Most of the steam products they have built/produced and manufactured have all had very good reviews. It seems like they stand behind their products offering a good warranty up to three years and you can order right off there site. With that much pride put into a brand and customers keep talking about how good these steam cleaners are I can't help but think to myself. I should buy one and try it out.
Options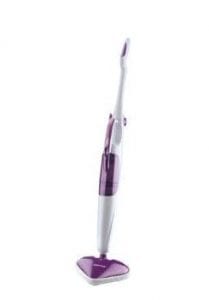 If you don't want to invest in a Steam Mop as powerful as the McCulloch then consider something a little smaller. A small unit like this can be used for basic floor cleaning providing very effective results.