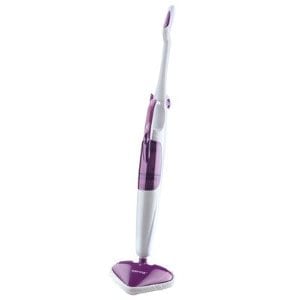 If you're ready to make the move to steam cleaning your floors, the Sienna Aqua Laser Steam Mop is one option you have. Like most steam mops out there, this one also says that it is more environmentally friendly, and can clean and sanitize your floors at the same time. But how is Sienna's track record with steam-based products, and how well does this mop measure up to others in its price class?
Overview
Cleaning your floors using conventional methods just doesn't cut it in this day and age. Our ancestors would've loved to get their floors as clean as we can get them nowadays. We've moved on from harsh chemicals and cleansers, and now we're getting into the method of cleaning up without making a bigger environmental mess than when we started. We're also focusing on sanitization, killing germs and bacteria that you can't even see with the naked eye, instead of just the surface dirt and grime that's visible.
The Claim
The Sienna Aqua Laser Steam Mop says that it not only cleans hard-surface floors, but also view arises and sanitize them all at once. They say that uses environmentally safe steam, but were not quite sure where the deodorizing part comes from if it's not using chemicals. Seems like it would be hard to be environmentally safe and deodorize things at the same time. They've given it a triangular head so that you can get into corners easily, and its levels hundred and 180 degrees so you have to struggle with it so much in tight spots.
They also say it stores easily because the handle folds up, which brings the total size of the device down to a handheld unit's size. It comes with two microfiber cleaning pads that you can wash and reuse and that are also meant to last a while before needing to be replaced.
The Hype Around Steam
Many companies try to make the case that steam is a very powerful cleaning agent. It is definitely used in many different applications, and hospitals are known to use it in order to sterilize surgical equipment and other medical devices. The good part about steam is that it's all the same, and no one has a monopoly on it, or has better steam than another. It's all in how you use the steam once you generate it. You need to be able to pressurize it and propel it enough so that it has cleaning power, and just doesn't wet things up.
The Cost
The Sienna Aqua Laser Steam Mop is $90 at Amazon. In the world of steam mops, that's kind of on the high side and there aren't too many more out there that are more expensive than that.
Cleaning and Sanitizing
Many people are interested in getting their floors not only cleaned but sanitized as well. New parents especially can benefit from a floor that is clean enough to eat off of, literally. But these models actually sanitize like they say they do, or is it just an upsell tactic to try to appeal to the germaphobes out there? Steam does kill most germs because of its intense temperature. Any germ that can't stand that sort of heat will be neutralized. The combination of the steam plus a microfiber pad is very effective.
Evaluation
Users seem to be relatively satisfied with their Sienna Aqua Laser Steam Mop, giving it solid reviews, but also bring up nearly as many drawbacks as they do positive points. They like that it's light and goes where you want it to, that it stores easily, and that you can wash and reuse the pads. They also give it points for heating up quickly, and allowing you to only use the steam when necessary, and not having it come out constantly.
However, they also counter that the power cord is too short, so you can't go very far with it. Also, the construction is not very sturdy, and while using it it can feel like it's about to fall apart on you. Many people have noted that it can leak, which is a common problem for many steam cleaners, and really separates the men from the boys.
Final Sienna Aqua Laser Steam Mop Review
The Sienna Aqua Laser Steam Mop is a good middle of the road steam mop, but for the price you can do better. At this price point you've got to bring your A game. One product that seems to be outdoing this Sienna offering is the Shark Steam Pocket Mop. It's got more features, better reviews, and a stronger focus on cleaning products and steam cleaning. Sienna seems mostly focused on outdoor lighting and is simply dabbling in a different market. We always say go with a company with a singular focus over one that is just testing the water.
What do you think? Does Sienna Aqua Laser Steam Mop work or not?