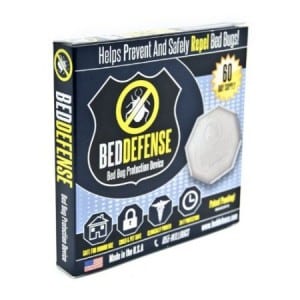 Bed Defense says that it is a one-step bed bug repellent that you simply place between your mattress and the bed frame. When you're looking for peace of mind from bed bug bites you definitely need something that is 100% effective or it's useless. So does this pass the test?
Overview
Bed bugs are the bane of many people's existence, and the thought of being bitten up while you slumber is enough to make you lose sleep over. What makes them especially troublesome is their knack at hanging around. They seem impervious to some treatments, and because they infest mattresses and other hard-to-reach places it can be hard to get to their homes and kill them where they live.
The Claim
The makers of Bed Defense claim that in just one easy step you'll be able to keep bed bugs out of your home, out of your life, and keep them from biting you. They say they have an all-natural formula, which would be preferable to having them treated by an exterminator that might use harsh and toxic chemicals on the areas where you're sleeping. They say it begins to work right away, and that it's safe to have around children and pets. They also claim that it doesn't make a mess, and that you're protected by a money back guarantee.
The Hype
Having bed bugs can be a traumatizing experience, and the companies that sell products like these are trying to tap into those creepy-crawly feelings you get when you think about being bitten while you sleep.
The Cost
You can get Bed Defense from Amazon for around $15, and this is the preferred way to go if you want to bypass a potential problem that occurs from ordering from their main site and taking them up on their offer. More details on that below, but it is interesting to note that they say they have a 60 day guarantee, but when checking the details on that it's for unopened packages, so it's not really a guarantee at all, since you won't be able to return the unit you use to see if it works or not.
The Ordering Process
This is another case where the ordering process is responsible for most of the complaints about the product. At their main site, rather than have this as a direct-buy purchase they make it so you pay $10, what they say is a 50% deal, and then sign you up for an auto-ship, auto-charge program whereby they send and bill you for a two month supply every 60 days. But complaints are saying that there are charges showing up on statements ranging from $40 and up, with further reports of lousy customer service when it comes to getting a resolution.
The Commitment
All that is required on your part is to put these in place as instructed, and then replace them as needed. They last for two months, so this would be a product you'd want to put on your calendar so you don't forget to replace them. That is the point of their auto-ship program, but in our experience companies that force you into a membership to buy their product on a regular basis are usually unsure of its quality and are looking for a way to make future sales without earning it through traditional repeat business.
Evaluation
The reviews coming in from actual users of the product reveal that there is something of a split on whether it works or it doesn't, with a slant towards it not working. What you'd really be looking for here is a nearly unanimous vote for it working because you don't want to waste time on a product that doesn't work and have your problem worsen in the meantime. Bed bugs are bed bugs so if it works for one case it should work for another, which is why there shouldn't so many conflicting reports.
Final Bed Defense Review
Bed Defense is getting the Thumbs Down rating because even after disregarding the complaints the ordering process the overall consensus is split, and leaning towards it not working. Users have said that disassembling it has found that it simply contains a scented cotton ball on the inside. Bed bugs are pretty resilient, and it confirmed methods of getting rid of them require a little more oomph than that.
Our Recommendation
There are plenty of all-natural ways to treat bed bugs, and a few of the more effective methods are using diatomaceous earth which takes time to take effect or 91% alcohol, which is supposed to kill them on contact so would need to be used regularly. There are also products out there that allow you to detect bed bugs, but don't necessarily kill them. If you used this as an indicator and then used an all natural way to get rid of them you'd be taking a two-step approach for detection and removal, rather than trying to repel them, which seems to be ineffective.
What do you think? Does Bed Defense work or not?