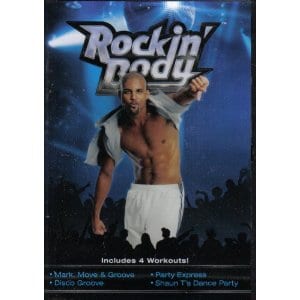 Rockin' Body has been around since 2008 and has stood the test of time as one of the better aerobic programs on the market. But you don't want to buy something and follow it only to have it not work out for you, so we looked at what this includes, evaluated the consumer response, and came to our conclusion of whether or not it works.
Overview
This was the second in a line of successful workout programs and followed Hip Hop Abs as another hit from Shaun Thomas. It's part of the BeachBody line-up, and they're known for putting together workout systems that hit a specific target market. In this case they seem to be trying to bring you a fun way to dance and get in shape and this would appeal to those that don't like the conventional boring methods of aerobics or cardio work, like running on the treadmill or sitting on a stationary bike for 40 minutes.
The Claim
They say you can burn up to 1500 calories a day with Rockin' Body. That may seem excessive, especially if you couple this with proper eating where you're only taking in that many calories. Of course this is probably an extreme example and under normal use you'd probably burn far less than that, which would still be very impressive, and would get you on track to any fitness goal you may have.
The Host
Shaun T is the host of Rockin' Body. You might remember him from such workout DVDs as Insanity, Asylum, and . The guy is fit, no doubt about that. If you've seen some promo videos and like his style, you'll probably be able to learn the right technique from him and get a better body. No doubt he keeps his body in shape with hours of training and the right diet, so it's best to keep reasonable expectations and just try for the best body you can get.
The Cost
The total cost of the package is $28 which includes shipping. It has 7 workouts on 2 DVDs and also comes with an eating guide, a support community, and a guide to getting started. You also get 4 bonuses, which when put all together makes quite a package. Compared to some of the other exercise programs on the market this is reasonably priced, especially when you consider all you're getting. They say the overall value is $400 which we're a little skeptical of, but why split hairs, it seems like a really good value regardless of the MSRP.
The Commitment
With this system they are not saying that you have to do it for 60 or 90 days, it seems to be more of a DVD that you could plug in whenever you get the notion and incorporate into your long-term fitness goals. It's all about keeping the body guessing, and keeping your mind interested in working out and staying fit. If you do anything long enough you'll get bored with it and find shortcuts. So the best way to stay committed to this is to incorporate it into your overall fitness goals as a bona fide cardio and aerobic workout you can use on rainy days, or at the core of your fitness program.
Evaluation
With Rockin' Body they've supplied you with what you need for success. Many workouts just come with a DVD and you're expected to come up with your own plan. With this they not only supply you with enough workouts to keep yourself interested, but they also make suggestions about how to get started. Overcoming inertia is one of the hardest things to do, so if this helps you get moving then the rest comes more naturally. Once you start using it you might find that other tasks throughout the day seem less bothersome, as you have more energy and are already in the habit of moving around more.
The eating guide is labeled Never Diet Again, and it takes the approach of making food choices that don't seem like you're depriving yourself so that your body doesn't reject your efforts and you don't go sliding back to the weight you once were. One other nice feature of this program is that you don't have to worry about using any special equipment, as most of the moves are dance based you just have to find a spot in your house that can accommodate the different motions.
Final Rockin' Body Review
As long as you don't jump into this too fast and go at your own pace there's no reason why Rockin' Body wouldn't work for most individuals. It's not quite as intense as some of the other products that BeachBody is known for, which makes it a great choice for those that just want to have fun with this so they stick with it for the long term. If you're going for the extreme body makeover 90 day challenge type of workout, you might want to consider going with P90X, but this can also provide a good gateway to a bigger challenge like that if you're not quite up to speed fitness wise.
Our Recommendation
From our firsthand research we haven't found anything wrong with the BeachBody company and the way they do business. We've tried their workout programs before and were impressed with the production values, and the effectiveness of the trainers to teach through a DVD. We also tried their Shakeology shakes and were impressed with the level of quality they put into them. While their products might be on the pricey side, the saying you get what you pay for applies here. Since the Rockin' package is at a reasonable price point it's a good entry product into the world of BeachBody.
Official Website: Rockin' Body
What do you think? Does Rockin' Body work or not?