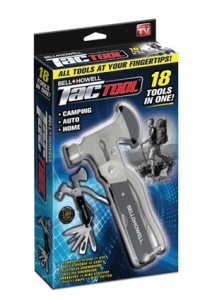 No matter what type of job you're working on, having the proper tools is always going to be important, because the last thing you want is to be looking for something that you need, that is just not available at hand. Perhaps the Bell and Howell TacTool is something that might be great for you.
Overview
The Bell and Howell TacTool offers you a large variety of tools, 18 in fact, in one handy device. This is actually a great little invention similar to many other little tools that they had in the past, where you had a can opener ,a screwdriver, sometimes even a little saw, as well as a variety of different screwdrivers, but with this item they've taken it to the entire next level and provide you with almost everything you need to get most jobs done. Because it's made by Bell + Howell you know right away that this item is durable and built to last.
The Claim
The claim of the Bell and Howell TacTool is that it will be able to provide you with 18 tools. This would include four wrenches, two saws, two pliers, two different size flat head screwdrivers, one axe, one bottle opener, one Philips screw driver, one hammer, one wire stripper, one wire cutter ,one file, and one knife.
The Hype
Obviously the big hype with the Bell and Howell TacTool is the fact you're going to have 18 different tools in one device that you can use for a variety of different jobs. It's great for at-home in the toolbox, but whether you want to take it with you when you travel, have one in the kitchen, or even in the car, it's great to have whenever you need any type of tool at your fingertips. Also this unit is built to be durable and can withstand any of the harshest conditions you can ever imagine. Just check out the videos and they will show that even if you freeze this in a block of ice, or run over it with a vehicle, it will stay intact and will last forever.
The Cost
The cost of the Bell and Howell TacTool is $19.99.
The Commitment
The commitment with the Bell and Howell TacTool is that it is built to last will withstand any type of conditions it is exposed to without breaking, and if you're not at all happy with the product, you can simply return it for a full refund or get a replacement if for some reason it is not able to provide you with the quality tools it has advertised.
Evaluation
This Bell and Howell TacTool is pretty cool and it is been claimed to be inspired by the different multi-tools carried by the military. The Tac Tool is apparently able to cut through a wire fence, as well as adjust a rifle scope, crimp a fishing lure, as well as prepare kindling wood, tighten screws and hammer in a nail or remove it, and even break ice if needed.
Final Bell and Howell Tactool Review
The Bell and Howell TacTool has gotten great reviews online and anything by Bell +Howell has a reputation of being able to last under the most harsh conditions. When you look at their videos they show the extreme tests that they must overcome in order to be classed as one of the toughest tools on the market.
Our Recommendation
Another excellent tool to check out with great ratings is the Gerber Center Drive Multi tool.
What do you think? Does Bell and Howell Tactool work or not?