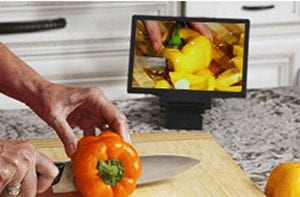 Cell phones are great but there are times when we wish the screens on them could be a bit bigger. There may be a solution for this called Big Show which will help you to see a whole lot more on your cell phone.
Overview
Big Show is simply a cell phone screen magnifier. It is supposed to increase the size of the screen for viewing by three times. The device that allows for this is attached to a stand.
The Claim
The company claims that you will be able to see an enlargement of your cell phone screen by three times as much. They say that the stand that the device sits on is durable and will sit on any flat surface including your lap. They are saying that you can turn your cell phone screen almost into a tv screen.
The Hype
There is no doubt that many of us at times which we could see better what is appearing on our cell phone screens. Yet we also like the compact size of our phones. Perhaps with the Big Show we can have the best of both worlds. They are saying that there will be no distortion with this magnification, which is great if that is true.
The Cost
You will have to pay $10. plus $6.99 shipping and handling for the Big Show. If you want to pay an extra $6.99 you will get a second Big Show free.
The Commitment
This may mean that you will have to carry an extra device around with you when you are taking your cell phone. Unless of course you just want to restrict the use of the Big Show for home use or at the office. We all like the convenience of just being able to slip our cell phone into our purse or pocket so its not all that appealing to have to carry around another device that is not quite so compact.
Evaluation
Potentially there are a lot of good uses for the Big Show. It is also something that a lot of people are interested in. There are similar devices available on Amazon. However, it seems to be a fairly new concept.
Final Big Show Review
We're going to give the Big Show a Try/Buy rating. While the cost of $10. is not much don't forget the cost adds up when you add on the shipping costs. At the same time this would be a great idea for when you want to see whats on your cell screen in a larger version and be hand's free. Potentially there are all kinds of situations where this may be the case.
Our Recommendation
There are so many gadgets that come out that help to enhance cell phones that you need to be somewhat cautious that you don't get carried away. One that we talked about in the past and now appears to be a big flop is the GripGo. Often these types of products are fads and although they don't cost a lot they still give some disappointments.
What do you think? Does Big Show work or not?