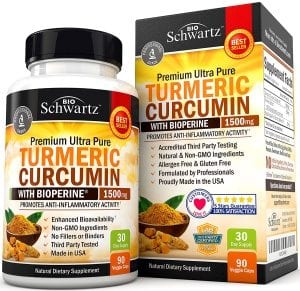 There are all kinds of ailments that create pain and discomfort and many of these are long lasting conditions. Most often the only choice for this type of pain control is over the counter drugs. One that many are finding to be really helpful is the Bio Schwartz Turmeric Curcumin.
Overview
It is so important that when one is looking for something for pain control to really take a close look at what they are thinking of buying. There are tons of products on the market that promote good results and end up being really disappointing. The Bio Schwartz Turmeric Curcumin not only helps with pain relieve but it helps to strengthen joints. It is comprised of natural ingredients that are beginning to become recognized for their value.
The Claim
The promoters of Bio Schwartz Turmeric Curcumin claim that once you have been taking this product for awhile you are going to feel much better and they 100% guarantee it with a money back offer. They are claiming that the Bio Schwartz Turmeric Curcumin has the highest potency that is allowed for turmeric pills. It is also enhanced with bioperine which is a black pepper extract.
The Hype
What really makes the Bio Schwartz Turmeric Curcumin a product that can be hyped up is the natural ingredients, and the absorbption capabilities. Quite often with herbal type products they lose their potency because the body does not readily absorb them.
The Cost
The cost for Bio Schwartz Turmeric Curcumin is $18.89.
The Commitment
The commitment for Bio Schwartz Turmeric Curcumin is you are going to have to take them exactly as directed. There is no point in taking them for two or three days then giving up on them. You will need to give them a fair chance to get into your system and start to work.
Evaluation
Overall we are impressed with the Bio Schwartz Turmeric Curcumin for several reasons. One, because Schwartz has a credible name and is known for good brands. We like that it contains natural products but also harmful ingredients have been eliminated from it. Then we like the fact that a lot of focus has been on the ability to absorb the product. This is always a big problem with natural herbs. The price is reasonable when you compare it to similar products that have not as yet proven themselves.
Final Bio Schwartz Turmeric Curcumin Review
We are prepared to give the Bio Schwartz Turmeric Curcumin a thumbs up. This is based on everything outlined in the evaluation. Then on top of this it happens to be a best seller on Amazon so the product has been well tested with the consumers. Out of 9.073 reviews it carries a 4.5 star rating which is amazing for a product that is being used to treat pain, and promote good health. Most report that it has worked for them for a variety of conditions that create pain and even arthritis. However, as with any medication that we talk about here we always insist that you speak with your health care provider first and inform them that you are going to be trying the Bio Schwartz Turmeric Curcumin with their permission.
Our Recommendation
We have covered a fair amount of products geared towards pain relief so you may want to do some comparisons of them.
What do you think? Does the Bio Schwartz Turmeric Curcumin work or not?