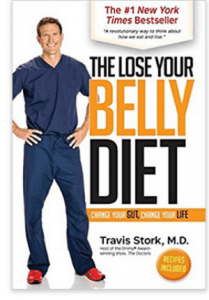 It may not be a great time of year to start thinking about a new diet, but you may be interested in an approach that many report is not all that difficult but seems to be very effective for some weight loss and this is the Lose Your Belly Diet
Overview
The Lose Your Belly Diet has a different approach to why people gain weight. It focuses on not having enough of the good bacteria in your gut that you need to have a healthy digestive system. When this body system is healthy then of course it supports all of the other major systems in your body that promote good health. More importantly it helps your gut treat the foods you eat the way it is supposed to be treated instead of letting some of your nutrients turn to fat.
The Claim
Those that promote the Lose Your Belly Diet are claiming that by ensuring that you have a diet that is going to support a healthy gut will help to increase the good bacteria that is so critically needed by the digestive system. This approach is welcome news to those who seem to do everything in their power to not only lose weight but keep it off.
The Hype
The hype that comes with the Lose Your Belly Diet really is that it is a different approach to weight loss. Those that have become frustrated with the traditional methods of losing weight find this concept to be a welcoming change, and maybe one that is more applicable to them.
The Cost
The cost of the Lose Your Belly Diet will fluctuate depending on where you buy it. If you buy from Indigo you can expect to pay about $18.30 for the hard copy edition.
The Commitment
The commitment that comes with the Lose Your Belly diet is much the same for any other weight loss approach in that the big priority is commiting to what you are being taught in the book. If you are only prepared to pull out certain segments of its teachings then you can not expect full results. Losing weight always requires some type of effort and usually lifestyle changes so if you are not prepared for this then you cannot expect diet success no matter whether it is with the Lose Your Belly diet or any other type of diet.
Evaluation
Any approach to helping someone become healthier which is what weight loss does is well received by us if it has some foundation of credibility to it. We believe that the Lose Your Belly diet does. It was written by a ER doctor who also happens to be a celebrity doctor who is Dr. Travis Stork. This book Lose Your Belly Diet became a New York best seller but ironically enough the book has only received a 3.9 star rating out of five stars and 1,168 reviews. Overall this is still pretty impressive when you are dealing with a topic like weight loss as everyone is an individual.
Final Lose Your Belly Diet Review
We are going to give the Lose Your Belly Diet a thumbs up. The overall reviews are good and it is a different approach that seems to be working for many.
Our Recommendation
No matter what if you are intent on achieving weight loss then you may need to try several different methods until you find one that works. You may want to check out some of the other diet programs that we have talked about.
What do you think? Does the Lose Your Belly Diet work or not?