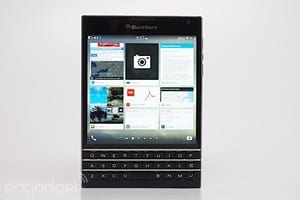 If you are intent on keeping up with the latest in smart phones, then hopefully you have a lot of free time and a lot of extra money. It seems that as soon as you purchase one of these nifty handheld devices, then learn how to use it, a new make or model hits the market, and you are ready to start the process all over again. So, is the Blackberry Passport perhaps the one and only smartphone that you will be purchasing for awhile, because it is the best of the best?
Overview
There is lots of information on the web about the Blackberry Passport in respect to what makes it different without going into too much detail here. It should be pointed out though, it does have some real differences with one of them being its size. At one time it was all the rage to be the smaller the better. It seemed as though it was the trend to want to get away from a bulky phone. Well this particular smart phone cannot be accused of being bulky as it is sleek and thin, but in overall size it is bigger. If you have held a standard passport in your hand then you will gain the same size experience with the Blackberry Passport. Aside from this, the big talk is about the keyboard itself which many are saying it is different.
The Claim
The Company really doesn't have to do a hard sell about this new product because the consumers who are first to get it can't resist sharing their experiences with it. The Company is claiming the phone has contextual auto correction,a next word protection, and even has the technology to learn how the user types.
The Hype
The best features of the Blackberry Passport is what is drawing the most hype. While some may feel a little hesitant about the size of the phone itself, many seem to find it a real convenience when they are trying to read articles or other large selections of print. You should be able to read up to about 60 characters per line.
The Cost
No doubt if you shop around for the Blackberry Passport you are going to find some variation in price but generally right now you could get one for $599.
The Commitment
The type of commitment you are really going to have to make is to first before buying really take a look at the strong features of the Blackberry Passport and decide if these are really what you want, and would you use the majority of them. One of the problems with the phones of today is that many of us have lost sight as to their primary use, which is for verbal communication. It is not unusual to see more people playing games on these devices rather than for talking. They truly are multifunctional but this is only a good thing if you are going to commit to learning everything it is capable of.
Evaluation
Overall probably the size of this new device is what is causing mixed feelings. Most have adjusted to the phones that are small and fit nicely into one hand, and have mastered the techniques of texting with one hand. This is probably not going to happen with this phone.
Final Blackberry Passport Review
Okay so taking into account the benefits of having a larger screen is a bonus for many users. Quality battery power is another big plus.A nifty feature is the blackberry assistant that comes with it. Let's face it being able to give voice commands that are followed through is something we all enjoy. Based on all of this and more we are going to give this smartphone a serious Try/Buy rating.
Our Recommendation
If you have a smartphone now that you are really happy with then ask yourself first do you really need a new one? Are the benefits and features of this Blackberry Passport so compelling that you really feel you should have it. Are you intent on learning the majority of its features and putting them to good use? You may also be thinking about how are you going to protect this new device, as most standard phone carriers are not likely to be big enough. You may want to check out the TelePurse and contact them to see if their product would accommodate the size of this new Blackberry Passport.
What do you think? Does the Blackberry Passport work or not?