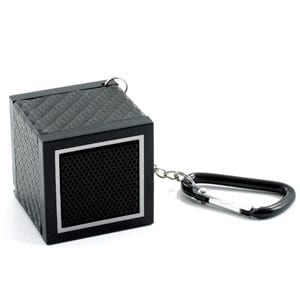 The Boom Cube is one of the latest entrants into the small speaker arena. It's touted as the world's smallest, most portable speaker with dimensions of one cubic inch. So does this actually measure up?
Overview
Sometimes headphones just don't cut it, and you want to hear your music without having something in year ears. But when you unplug your headphones from your iPod, iPhone, or smartphone the tinny noise that comes out of it sounds nothing like it does when you've got your headphones in. Manufacturers have assumed that you'd just be listening with headphones and have viewed the speakers as an afterthought. Many companies are trying to fix this by creating mini portable speakers that you can carry around with you and that are meant to replace the speakers that came with your phone or MP3 player.
The Claim
Boom Cube claims that you can get a ten times increase in the amount of sound from your portable electronic devices. They say you can play your tunes up to 5 hours on a single charge, and that it comes with a USB charger so you can recharge it from any computer. They say this actually produced some bass, and sounds great, and since they're competing with factory speakers that sound horrible there's a lot of room for them to make a good impression on users.
The Hype
This has its own infomercial that can be seen on TV boasting about how great the sound is and how small the unit is. While it is small, it's still a cube which means it's not going to feel too good having this in your pants pocket, but they do give you a clip so that it can be attached to a belt loop, or a strap on your backpack or wherever else it's convenient. And saying that it can give you ten times the sound might be pushing it, especially on some of the newer iPhones and other devices that have made improvements to their sound quality in recent models.
The Cost
You get two Boom Cubes, the black and the white for a total of $30 which includes shipping. If you want just a single speaker they can be found online for around $20 or in retail stores for around $10. So depending on how you pick this up you're looking at around $10 to $15 for one speaker. It's not a bad price when you stop and think about it, it's about the price of a cheap pair of headphones.
The Difference
The biggest reason people are buying this is because the sound for many portable devices leaves something to be desired. It's hard for manufacturers to make smartphones and tablets sound good because they're mostly concerned about keeping them thin and light. This means that the speakers inside don't have a lot of room to work with, and there needs to be some space for a woofer to work with if you want to get anything sounding like bass. That's why even though it's only 1 inch all the way around, there's actually space for air to pass through and give you the sound you want.
Evaluation
The Boom Cube makes some big promises, but as long as you don't go in with huge expectations you should be reasonably happy with your purchase, and it will sound much better than the factory speakers that come with most handheld and portable devices. They're getting better, for example the new Kindle Fire HD boasts Dolby audio with two stereo speakers. Granted it does cost twenty times as much and is far bigger than an inch. But the technology is catching up to the point where one day we won't complain about the kind of tune's we're getting from our tiny devices.
If you're an audiophile you're probably not going to be too impressed with the sort of sound this creates, and that's not really who it's made for. You have to factor in the small size when you gauge its audio quality, and the fact that it's broadcasting into open air. Headphones have the advantage of being broadcast right into your ear which is why they're able to produce crisp sound without distortion. It gets harder when the sound travels into an open room and is fighting with other noises and ambient sounds.
Final Boom Cube Review
The Boom Cube is getting our Thumbs Up review mostly due to its small size, and not necessarily for the sound. Competing products claim to be portable but at just one inch this product is as portable as you can get. It's so small that losing it become an issue, which is why it comes with a clip so that you don't accidentally drop without even noticing it's gone. With such a small size there's only so much music that it can pump out, so it's not as if you're going to entertain a crowd at your next gathering, but for solo listening this is a big upgrade from your cell phone speakers.
Our Recommendation
This is just one of many pint sized speakers that have hit the market lately, so be sure to compare it against things like the Music Bullet, and the line-up of mini speakers from iHome. They're bigger than the Boom Cube and are a bit more expensive but because of their larger size they might be able to provide a better listening experience.
Read user reviews on the Boom Cube
What do you think? Does Boom Cube work or not?