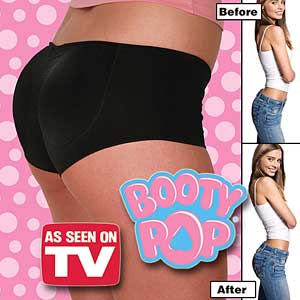 Booty Pop is a line of padded underwear that is supposed to add some depth to your derriere. If you're on the low side when it comes to having a booty, you have probably been looking into ways to make it bigger. There are pills, creams, and some women even resort to getting injections. The expenses can really start piling up, and it's just one body part! Are padded panties really something that can give you the results you want?
Overview
Unless you're graced with a nicely portioned booty, you'll probably have to work at it in the gym to give it the rounded, lifted look. It's one of those body parts that is hard to maintain, which is why it gets so much appreciation when it is in top form. Some guys are breast guys, but a growing number are becoming more enamored with the posterior. Whatever the reason, many women have made it their focus, and you can even take what's known as the "Pencil Test" to see if your booty is up to snuff.
The Claim
Booty Pop claims that just by wearing their specially designed panties, your booty will look better than it ever has before. They say that their underwear is made up mostly of cotton, but has some Spandex in it so it fits great, and stays comfortable, even with the padding in it. They also claim that if someone touches your padding, it will give the feeling of being real, so you don't have to worry about being found out.
The Hype
The hype started with the J Lo booty, but has continued on thanks to celebrities like Kim Kardashian. The bum is the next body part behind breasts that gets the most attention. There are workout DVDs specifically designed to get a bigger butt. Some jeans are even cut to showcase it, and there are even Apple Bottoms Jeans that are specially made for girls with big booties.
The Cost
The cost of Booty Pop varies depending on which kind you go with. The classic is $28 for one pair, but if you order 4 or more you they cut the per pair price down to $14.
The Commitment
All that's required on your part is to put the panties on, and where they just like you would your normal underwear. Unlike other booty enhancers, this one doesn't involve the use of any pills, creams, injections, or anything unnatural. Of course this is purely an aesthetic fix, and the magic stops when you take the panties off.
Evaluation
It had to happen sooner or later, the bottom is getting the same sort of padded bra treatment that the breasts underwent long ago. And that's basically the concept at work here. The women that would benefit most would be those that simply missed the boat on getting a heaven sent booty. If you're bottom goes straight down and no amount of lunges or squats at the gym have been able to help, this might be the way to give yourself the look you've been going for.
The way they've made the padding a part of the underwear is a good idea. This means that you don't have to worry about the pads moving around, or not being in the right place. As soon as you put them on they hug the contours of your butt and add padding right where you'd want them too. There are some body shapers out there that are meant to basically do the same thing, but they can shift and get wedged in places they're not supposed to.
One common complaint is that the padding doesn't look natural once you have them on. A lot of users said that people would be able to notice that they are stuffing their cheeks with these. If that's the case then it sort of ruins the point, although seeing it showcased on several TV programs, it seemed natural looking.
Why the Infatuation with the Booty?
It's easy to see why guys like breasts, since they don't have them and they've already been weaned off of them. On an evolutionary level healthy breasts speak to a woman's ability to nourish a man's offspring. But what is it about a booty that gets their attention? A healthy booty gives them something to grab onto, but it also adds to the sensation in some positions. It also could be a sign that woman will be able to carry a child well, the way people talk about "good birthing hips".
Final Booty Pop Review
Booty Pop is getting our seal of approval as far as something to make your butt look bigger. It should be noted that it's mostly just for fun. We wouldn't recommend trying to pull this off as if your booty grew in size overnight. You'd then have to commit to wearing them all the time. But for a fun night out on the town with your girlfriends, these can come in handy.
Our Recommendation
This is a fun, easy, and drug free way of getting the appearance of a larger booty. If you've been having trouble filling out your pair of "sexy jeans" you will probably like the look you get with these. If you find that the size of your butt fluctuates on a regular basis, you can have these on hand for those times when you feel like you just need something to fill in for a little while.
Official Website: Booty Pop
What do you think? Does Booty Pop work or not?