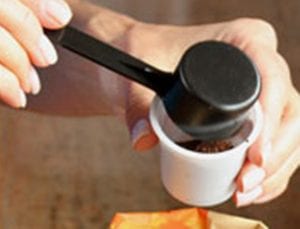 There is no doubt that a lot of people love their coffee, and the one cup coffee makers have been a big hit, but what about the concern for throwing all those one cup coffee containers into the landfill? Could there be a solution to this, and if so at what price in both the fine taste of the coffee and the actual price for the solution will it come to?
Overview
A lot of people have been turning to the one cup coffee makers for several reasons. Some enjoy their coffee as soon as it is fresh brewed which they don't get the chance to do when they make a full pot using the standard type. Others like to make one cup at a time because that way there is no waste. What many people don't like is the tons of one cup coffee containers that they end up with, and there are those that feel that they are just adding to landfill pollution with these. The potential solution is the Brew Caps, which allows you to refill these one cup coffee containers and then use these caps to store and reuse them.
The Claim
The Company is claiming that their product is easy to use, and saves you money. They claim that by refilling the standard one cup coffee containers and then using the Brew Caps that when the pod is reused the coffee is infused evenly allowing for a rich fresh flavor.
The Hype
The major hype for this product focuses around saving time as a convenience. They place heavy emphasis on how you can quickly and easily fill enough containers for the week, and they offer a handy storage tray to keep them organized. Added to the convenience is how the caps are easily rinsed for the next use.
The Cost
The present offer for you is to pay a total of $24. for a double order. So you would be receiving 10 caps, 2 scoops and 2 brew trays. Actually what you are doing here is paying for one set, and getting a second set free but paying the shipping and handling. It comes with a 30 day money back guarantee minus the shipping and handling.
The Commitment
Once you have used your regular pods, you will need to clean them out, make sure they are dry, then fill them with your chosen coffee, then seal them with the brew caps. You will have enough if you get the double order to fill 10 pods. If you set some time aside you could do this at one time, or if you prefer just fill them as needed. A little more work than just brewing your coffee and tossing the container.
Evaluation
For those that really are unhappy about discarding the pods this is probably a good solution. It is not really a totally unique idea to the Brew Caps as there are similar solutions already on the market. For example Cafe Cup is a reusable single cup pod, but these alternatives are a little different from the Brew Caps.
Final Brew Caps Review
We are going to give this product a risky Try/Buy rating although for some reasons we were close to giving it a solid Try/Buy. We were tempted to go with the higher rating of solid try/buy because there really does seem to be a lot of interest in reusable cups when we were conducting our research. Many of the alternatives for this that we looked at were brand related. So we were thinking that because the Brew Caps really were generic that this made them somewhat unique and was leading us to the solid try/buy. Then we took into consideration that it seems that most people really don't care about having to fill the cups when ready to use, and the feature of being able to do several at once really didn't justify the price of the Brew Caps compared to the price of the similar products. So taking all these factors into consideration we can to the conclusion of the risky Try/Buy rating.
Our Recommendation
If you really like the thought of being able to fill your containers ahead of time then this just may be the ideal product for you. Also you need to consider that if you really favor just one or two types of coffee then it may be worth it. Although these one cup coffee makers like the Keurig B40, which we did a review on, offer you a wide selection of coffee flavors, most often it gets narrowed down to really enjoying just a few.
What do you think? Does Brew Caps work or not?