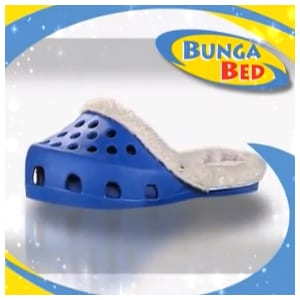 The Bunga Bed Pet Dog Shoe looks like a Crocs sandal, but is actually a bed. The part where you'd put your foot is supposed to be a little enclosure so your dog feels safe and secure in it, and the shoe design is supposed to add a fun piece to your room's decor. They've taken a bit of a gamble on the style, since there's a pretty sharp divide when it comes to how people perceive the look of Crocs footwear, and this is definitely a niche product. So, the real question is are you on the side that likes the look?
Overview
It can be hard to get your pet to stick to their own space, and a lot of times they will disregard the area you set out for them, even if you do go to the trouble of getting them a doggy bed. Most dogs will happily sleep wherever they can find a spot, and this will usually be in close proximity of their owners. This includes jumping up on the bed and plopping down right next to you or your children. It can be a hard habit to break if they've become used to it, and this bed might be a compromise if used as shown in the promo videos.
The Claim
They claim that the Bunga Bed's lining is soft and comfortable for your pet, and that it is also removable and washable, so you can keep the bed clean if there are any accidents, or just with general upkeep. They say that the plastic shoe easily wipes clean so that it always stays like new. They also say this is a great way to give your pet their own space, and keep all of their pet hair confined to one area.
The Hype
Most people end up having a good laugh when they first see this, because Crocs get so much negative feedback, with many calling them some of the ugliest footwear out there. But if you're a fan of the style, you probably think it's pretty cute to have your dog sleeping in an oversized shoe, so they're basically riding on the success of the Croc footwear, and transferring that over to the pet care department.
The Cost
The Bunga Bed is two payments of $20, plus shipping and handling of $8, putting your total price near $50 total. You can opt to get a naming kit, personalizing the shoe for your pet. This costs an extra $5 for shipping. Compared to competing dog beds, it's in line with the more expensive ones, and they say that the reason you'd go with this over those is that this won't lose its shape, and is easily washable.
The Commitment
All that's really required is to get your pet to accept this as their bed. This can be easy for some pets, and harder for others. There are plenty of free videos out there that help show you how to get your dog to take to their new bed. If they're already used to having their own designated bed, or bedding, you simply swap this out for what they're used to and they should assimilate rather quickly.
Evaluation
even though it may look a little silly at first, there's no reason why this bed shouldn't do what it claims to be able to do. When you consider the alternative doggy beds out there, you'll see that they have some inherent drawbacks. Either they're too big and bulky to be tossed in the wash machine, or they're too soft and fluffy to stand up to repeated use. This product blends both worlds, giving you the stability of the molded plastic, but the soft comfort lining that can be easily washed.
They say that this isn't just for dogs, and that cats would use it as well. If your cat is known to go to their preferred spot to have a nap, this might be something they like, since it's got a soft plush interior. They also say that it can be used outside, which is fine for good weather, and they say that it's waterproof, but you wouldn't want the whole thing to get wet, or expect your pet to use it as a substitute for a dog house.
Final Bunga Bed Pet Dog Shoe Review
If you like the look of the Bunga Bed, this might be a good product to go with, even if it is a tad pricey. They may be preying on the fact that dog owners will splurge on their pets if they really want an item, and you may be able to get a cheaper knock off with a bit of searching. It's sort of a fun item, and it's up to you to decide if it's worth this much to get a bed for your pet, when you could go with other options that aren't as expensive.
Our Recommendation
When evaluating doggy domiciles it's important to consider that you have to find the best of both worlds: something that is easy to clean, easy to move from place to place around the house as needed, and is able to stand up to some wear and tear with normal use. If you've got a fun and quirky look going on in your home, this shoe bed will fit right in, and there's no reason your dog wouldn't use it, especially if you use a few training tricks to get them to like it.
What do you think? Does the Bunga Bed Pet Dog Shoe work or not?