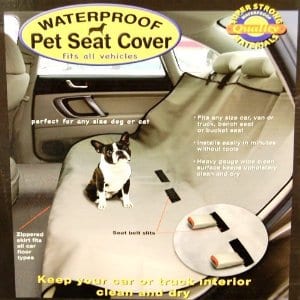 The Waterproof Pet Seat Cover goes over the entire back seat of your car, instantly transforming it into a weatherproof area for your dog to hang out in. The idea is that you won't be messing up your car's upholstery, and you give your pet their own environment while you're driving. But how well does it work at protecting your car, and how will your pet like it?
Overview
Dogs can really do a number on the back seat of your car, especially when left to their own devices, and generally unsupervised. The pet hair alone is enough to drive you mad, but if their nails are overdue for a clipping, or they've got a serious case of drooling, you've probably come to terms with the fact that your back seat will never be the same again. But if the damage hasn't yet happened you could end up saving yourself a lot of cleaning and trouble by laying down a protective cover before letting them have free reign of the place.
The Claim
That's the theory behind Waterproof Pet Seat Cover, and they claim that it is impervious to water in all forms, from rain to snow, and therefore would repel things like dog slobber and urine as well. The concept is a sound one, as the cover goes completely over the seats, and allows your dog to roam around without you having to worry about torn seats, or any of the messes they can make.
The Hype
You might get this confused with ads you've seen for Pet Rider, since it's essentially the same exact product. That product got the Thumbs Up from us, and it's hard to tell which one came out first, but from what we can deduce it seems like Pet Rider might have beat them to market, or at least managed to build more awareness through a bigger ad campaign.
The Cost
It's not very much to get a Waterproof Pet Seat Cover, you can pick one up for just over $10. When compared to competing products, this price is pretty low and will lead many people to try it out, just because they can get it so cheaply.
The Commitment
The installation on this should be relatively easy. They've equipped it with several different attachment points so it can adjust to most cars with a back seat. They've also given it special pads that help it to stay in its place, which is very important both for your pet, and for your sanity so you don't have to always be adjusting it and putting it back where it belongs. It should be one of those items that you just put into place once and then you don't have to worry about it, unless you need to take it out and put it in again and again as you change between dog and kids.
Evaluation
The Waterproof Pet Seat Cover has some people saying it works like you'd expect it to, and others saying it's a waste of money. The price is the first suspicious thing about this product, making it pretty obvious that it was produced cheaply. It's nice to get products at a low price, but you have to wonder what they skimped on in order to be able to sell it at this price. The material is most certainly waterproof, and is confirmed durable, but that's a moot point if the straps that secure it are made of an inferior material, and if the smell is so strong you can't have it in your car.
One complaint that has been noted by several users is the strong odor that accompanies this seat cover. It's that manufacturing smell of plastic and rubber and oil, like a tire store. Some people that tried it said they didn't smell anything, while others said they had to air it out for a long time before being able to use it as planned. It's a problem that a lot of products have, especially those that are manufactured overseas for fractions of pennies.
Final Waterproof Pet Seat Cover Review
The Waterproof Pet Seat Cover has too many mixed reviews for us to give it a solid backing. We've already given our seal of approval to the Pet Rider, which is basically the same product, a seat cover for your car, and that doesn't have as many registered complaints that this one has. Some users have brought up the question of whether it's a good idea or not to have your dog lying on something that has chemicals or oils or something applied to it during the manufacturing process, saying that it might not be the safest thing for your pet.
Our Recommendation
If you're bent on saving a few bucks, you can go with this product, but from what we could determine the old adage of you get what you pay for might be apt. Even though this clocks in at a lower price point, that doesn't do you much good if it breaks after a few uses, or smells so bad you can't use it. Pet products need to be able to take a beating, because they're going to go through a lot, especially if they're designed to go under a dog. Small breed owners might be able to get away with this, but for larger breeds we recommend the Pet Rider.
What do you think? Does the Waterproof Pet Seat Cover work or not?