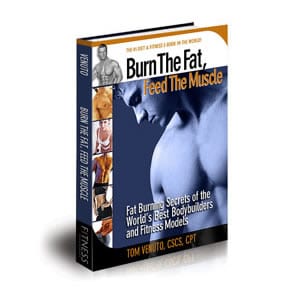 The Burn the Fat Feed the Muscle program pretty much sums up what it does in the title. It's a way not only to get rid of the fat you don't want, but to help the muscles you do want grow and get stronger. The point is that a lot of weight loss programs make it hard for you to build and put on muscle, because they end up starving your body of what it needs in order to allow them to grow. But can something like this really work, among a sea of products that let you down in your fitness attempts.
Overview
There seems to be a dichotomy between wanting to lose fat and also build muscle. Drawn out aerobic exercise has been shown to help burn off the pounds, but it is also known to eat away at your muscles. Eating foods to lose fat is also counterproductive to building muscle. So what can you do in order to do both at the same time? Few programs really address this, as many people just want to lose weight, they don't really care where it comes from.
The Claim
The folks behind Burn the Fat Feed the Muscle claim that you can completely transform your body in 49 days flat. Not 50 days or 48, it's that 49th day that's special. They say that you can get these results without turning to dangerous diet pills, without having to try the latest diet fads, and without spending heaps of time at the gym. Without employing these three tactics, it's hard to believe they can come up with something that produces noticeable results in less than two months. But let's get into it more and see how they say you can do this.
The Hype
The hype is that Burn the Fat Feed the Muscle really is in a class by itself, as there are only a handful of products that are earnestly trying to do this delicate balancing act of losing fat and building muscle.
The Cost
It's $40 for the regular addition and an extra $20 for the deluxe edition. The deluxe addition includes an extra 10 interviews. They say it's not really necessary and you get everything you need with the basic addition, but if you're going all in on this, you might as well go deluxe. If it works the way you expect it to it's just an extra $20 and if the whole thing isn't your cup of tea you end up getting all of your money back anyway within 60 days.
Tip: If you don't want to put up that much money to try it out, just click away from the page and they'll ask you to stick around and let you try it for just $4.95.
The Commitment
During the pitch they make it seem like it's going to be a breeze to lose the fat and put on the muscle, but c'mon, you know better than that. It's still going to require effort on your part. You're going to have to eat specific foods and do some sort of exercise in order to get the results, so don't buy into this if you think that you're just going to be able to continue on with the lifestyle that brought you to this page. You're going to have to make changes, and changes are hard to make. If it was easy it wouldn't be worth going for.
Evaluation
Getting a solid grounding once and for all on which foods cause fat and which ones help it go away is worth the price of admission alone. There's so much mumbo jumbo when it comes to getting reliable information. One guru will say a food is good, while the next condemns it. Soon you're walking through the supermarket with so much info and misinfo going through your head that you wander around with an empty cart for 20 minutes not knowing what is OK to put in it.
Unless you intend to earn a living modeling your body, you should get it out of your head to look like a fitness model. Those guys and gals spend the entire day working on looking good. That's their full-time job. Most of us have full time jobs, and getting fit is just a hobby or a goal. If you take out this unrealistic expectation and just work on getting in shape for your health, you'll end up looking great as a byproduct.
Final Burn the Fat Feed the Muscle Review
Taking a level-headed approach to Burn the Fat Feed the Muscle is the best way to go. They have you entirely covered because 49 days is the claim, and 60 days is the guarantee, so there's no gray area here, and this fact earns it our Thumbs Up review. So many products out there take 90 days or longer to kick in but only give you 30 days to see if you want to keep it or return it. Few products out there let you fully review it before making a final purchase decision.
Our Recommendation
Fitness products are all about choosing one that resonates with you and your specific goals, and that get good reviews as well. If this is speaking to you, it's probably a good idea to go ahead with it. If this isn't quite what you're looking for and you're having doubts, it's best not to try to jam a square peg in a round hold. There are plenty of other fitness programs out there, so go with one that feels right. It increases your chances of sticking with it for the long term and seeing the results you're after.
Official Website: BurnTheFat.com
What do you think? Does Burn the Fat Feed the Muscle work or not?