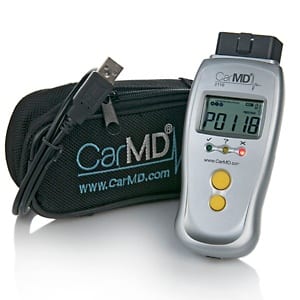 CarMD is a diagnostic device that gives you more insight into what's wrong with your car. If you're a newbie when it comes to car repairs, and let's face it, most of us are, you'll appreciate a piece of equipment like this that can help level the playing field when it comes to car repairs. But these benefits only occur if it actually does what it says it can, so we took a closer look at whether it works or not.
Overview
Car trouble can cause a lot of stress, especially if you depend on it for work and have no idea how to fix any part of it. Each clunk or funny sound can leave that uneasy feeling in your stomach as you wonder how much it's going to cost you, and if the car shop is going to do a number on you.
The Claim
CarMD is supposed to help you avoid unnecessary repairs and give you more confidence when you bring your car in because you'll have a better idea of what's wrong and you'll know when you're being overcharged. They claim that if your car was made in 1996 or later you'll be able to hook the device up to your car and quickly get an easy-to-read display that will tell you what's up with your car. They say that in addition to telling you what's wrong, their database will show you suggested fixes, and national averages on repair costs so you'll be well-armed when you take it in.
The Pitch
For years now auto shops have had the seemingly upper hand because they've been able to perform diagnostic tests to figure out what the "check engine" light means, and then tell you what needs to be done to fix it. This gave them leverage because in the gap between what the system is telling them is wrong, and what they are telling you is wrong, there's plenty of room to con an unsuspecting car owner. But by giving consumers the same diagnostic ability it's as if everyone is on the same page and can work together to solve a common problem.
The Cost
They give you a 30 day free trial in order to see if this suits your needs. If you keep it your card is charged $135 and you can then return it at any time over the next year per their guarantee and you'll only be out $15. They also have a 3 pay option so you can break it up into smaller amounts. If you want to buy it outright you can find it on Amazon for $120. At this price you'd have to be pretty sure that it would save you at least this much in wasted car repairs, or in peace of mind.
The Commitment
If you're not familiar with cars and have no repair abilities whatsoever, you might feel a bit intimidated to learn that you have to hook this to your car to get a reading. If you're also computer illiterate you might be equally dismayed to learn that you have to check the readouts you get using your computer. But they provide instructions for both of these steps, and the device has an easy to use red, yellow, and green light display so you know right away if you need to explore further on your computer.
Evaluation
The vast majority of those that try out CarMD are satisfied with its performance and say that it has helped them feel more confident about the state of their car. When the red light is displayed the accompanying report on the computer will go into as much detail as possible to tell you what is wrong, some possible fixes you can try, and also whether your car needs to be serviced or not. While some car pros say it doesn't stack up to other readers, most say that the majority of car owners will be happy with it.
Two Guarantees
They seem pretty confident that you're going to like your CarMD device and that it will accurately diagnose your car. The first guarantee they have is the standard money back guarantee that returns the purchase price less shipping and handling, but they extend this out for a full year which is far longer than most guarantees out there. The second guarantee is that it will tell you what is wrong with your car and if it ever gets it wrong they'll pay up to $500 towards the cost of the real repairs that need to be done.
Final CarMD Review
CarMD works as a diagnostic tool and can help guide you to making better decisions with your car repairs. It can give you more confidence when dealing with auto mechanics if it sounds like they're speaking Latin when they explain what's wrong. They say we live in the Information Age, and having all of the information about what's wrong with your car, potential car repairs that would fix it, and how much these repairs should cost is enough to make most people feel comfortable talking with their mechanic and building a trustworthy relationship with them.
Our Recommendation
It's important to realize that this unit isn't designed to repair anything on your car, and it won't turn off any check engine or other service lights that got your attention in the first place. If you are good with car repairs it won't even be able to turn the lights off once you successfully make the repairs.
What do you think? Does CarMD work or not?