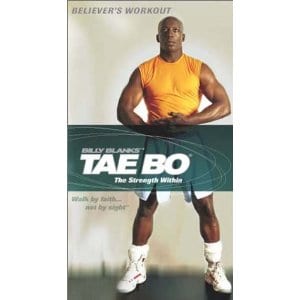 Tae Bo revolutionized the way people thought about working out at home, and could be credited as starting the trend towards more extreme training from your living room. But was it just a workout fad or was there something to all of that punching and kicking?
Overview
These days it seems it's all about pushing yourself past your limits, and Billy Blanks was one of the first fitness instructors that added an element of fighting and boot camp style training rather than the typical aerobics and other fitness programs that were the norm.
Today people are using programs that are meant for elite athletes, MMA fighters, and more in order to get that perfect lean body. But back in the day it was more about getting in general shape, losing weight, and feeling quicker and more agile. It's all about matching yourself up to the program that's best suited to you.
The Claim
Blanks claimed that his Tae Bo program would help you lose weight, get fit, and have fun while doing it. He's since revamped the program a few times, and these upgraded systems are still being sold. Perhaps the most popular is the PT24/7, which takes some of the fundamental moves from Tae Bo and incorporates them into a more modern workout.
The Hype
When this first came out it was all the rage, and it was the workout that everyone was talking about. It's not hard to see why since it was pretty revolutionary for its day. These days most of the hype has died down with programs like P90X and Insanity taking over the airwaves dominating the at-home fitness niche. But Billy is still selling his videos and using his brand recognition to try to get people interested in some of his newer releases.
The Cost
You can get some of the Tae Bo videos for $8, but if you want the classic version it's $15. There's also a combination pack that gets you many of the titles for $45. When you consider the cost of going to a gym, or buying a gadget to get fit, the prices seem pretty reasonable. Even some of the more popular DVD programs out there can be well over $100, but usually come with some sort of workout equipment, charts, nutrition guides, and more to justify the higher cost.
The Commitment
The premise of at-home workouts is that you're removing all of the roadblocks to staying committed. Regardless of the weather you can pop in the DVD, hit play, and get to work. Even though this involves taking away a lot of excuses, it still doesn't make it foolproof, and many people have unused workout programs and fitness equipment collecting dust in the attic. That's why it's a good idea to make sure that you have a strong desire to stay with this, and have proven to be able to motivate yourself to keep going when it comes to working out.
Evaluation
Tae Bo wasn't just a super-craze, it actually worked, which only fueled its sales further and caused a positive buzz. There are now so many incarnations being offered that you can tailor it to your own goals and choose what makes the most sense. If you ever get bored with the classic version there are upgrades to keep you challenged, while staying within the boundaries of what you're familiar with. Keeping the body and muscles guessing is a good thing, and you don't want to become stagnant or hit a plateau because you're doing the same thing over and over again. Always try to be expanding your abilities.
Unlike a treadmill or stationary bike this isn't something that you can hop on and then watch your favorite TV program or read a magazine while you're working out. It's going to require your attention and involvement and you're going to have to get over the learning curve if you're not used to exercising in this manner. It might require starting off with a program that's a little less intense so that you can build up to it. It's still a bit fast paced, but not as grueling as some other programs like Asylum.
At-Home Workouts
To find out if you're the type of person that can stick with an at-home workout, try starting your own and see how long you can keep it up. For example, you might make the decision to do a certain number of push-ups and sit-ups each day, or every other day. If you can keep that promise to yourself for a few weeks, you'll probably have pretty good luck with an at-home DVD program. Also make sure that you have the space and the privacy if you don't like working out in front of people. These are the main things that trip people up with at-home systems.
Final Tae Bo Review
If you put the work in, the Tae Bo system can provide results, and many people have lost weight with it and transformed their bodies. It's a good idea to check out some of the free videos available online so that you can see Billy Blanks' training style and see if it's a match to the way you like to be taught. You can even try it out with these videos to see how well you can stick with it, and then go for the full program when you want something more structured.
Our Recommendation
Any fitness program will yield better results if you follow a healthy eating program while on it. If you're still having trouble getting your eating under control, it might be smart to start with that first before trying to get motivated and get enough energy gathered up for exercise. Diet plays such a big part in the way you feel that it's harder to start exercising if you're still keeping up with bad eating habits. It's counterproductive and can be demotivating. Try eating right for a few weeks and you'll notice that you have more energy and desire to work out.
What do you think? Does Tae Bo work or not?