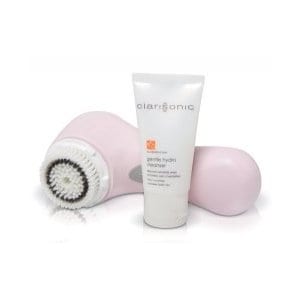 Clarisonic has a wide range of beauty products to choose from, with the overriding thought that they use sonic technology in order to help the skin. Its flagship product is their Classic Skin Care System, which is a handheld device that you use to scrub your face. They've since followed that up with the PLUS version, and the most recent incarnations the Mia and Mia 2, which are smaller in size to the job done just the same. So how do these actually work, and is there any validity to these claims?
Overview
In the world of skincare it's not everyday you find a company that is trying to bring a totally unique product to the market. Most corporations out there are focusing on creams, ointments, powders, and even pills they expect you to swallow in order to improve the look of your skin.
The Clarisonic system is designed to incorporate sonic wavelengths to help break up buildup residue, dirt, oil, and makeup from your face. We've never seen anything like this before, so we had to delve deeper to see just what they are promising, and whether or not it delivers.
The Claim
Until you see it in action, you might not know exactly what you're dealing with, or how the system actually get your face cleaner than regular, more traditional methods. Here is how they explain it from their official site:
Clarisonic Sonic Skin Cleansing Systems use a patented sonic frequency of more than 300 movements per second to gently, yet thoroughly remove 6X more makeup and 2X more dirt and oil than cleansing with your hands alone. Cleaner skin is the first step toward healthier skin. And healthier skin is smoother, more radiant and more beautiful.
Sounds feasible enough, but the real test will be whether or not those that use it say it actually does what it says.
The Hype
Due to so much positive feedback, there's definitely a buzz going around about the Clarisonic line of products. Although at first glance the claims of using sonic technology to help clear your face and keep your pores clean seems something of a gimmick, but after so many people have used it and raved about how well it works, it does create some hype around it.
The Cost
Depending on which model you go with, you'll spend anywhere from $120 to $225. It all depends on what kind of features you're looking for, and how much you want to invest towards your own Clarisonic device. The original Mia is the lowest-priced model at $120, the two speed Mia 2 is $150, the Classic is $195, and if you go with the Plus it's $225. Probably her best bet to go with the Mia 2 because it gives you the two speeds just like the Classic, but at a lower price and a smaller size so that it's easier to travel with.
The Commitment
It can be hard to keep up with skincare, because it's so easy to take it for granted. But in order to see the best results on your face and other areas, daily upkeep is very important. Since the Clarisonic system oscillations 200 times per second, you can actually do a better job of cleaning your face in less time.
Evaluation
Since this uses a micro-massage motion, it works with your skin's natural elasticity to remove impurities from your face, without causing irritation or making a bigger problem than the one it solves. We like that you can buy replacement heads for it, so you don't have to junk the entire unit when it wears out. This can definitely be something to add to your arsenal of skin care tools.
So we've heard the explanation as to how the sonic system works, but here are the benefits they say you'll be able to experience by using it:
Removes 6X more makeup than manual cleansing
Leaves skin feeling and looking smoother
Removes impurities that keep creams and serums from working their best
Gentle enough to use twice a day
Reduces oily areas, dry skin patches and blemishes
Minimizes the appearance of visible pores
They do a good job of not making many outlandish claims, and it is not too much of a stretch to see how a system like this could actually work, and be better than conventional methods, like using your hands, or a washcloth or a loofah. By oscillating at such a fast speed, it makes sense that this would do a better job, the way a Sonicare toothbrush gets your teeth cleaner than conventional brushing. The trick is finding a balance between cleaning too much and not enough. They say that they're able to do this, and that you can use it twice daily without irritation.
General Consensus
The overall rating for many of the products that Clarisonic makes are positive. For example, 4 out of 5 people that tried the Classic Skincare Brush gave it a positive rating. And that is out of hundreds of people reporting, making that data very relevant, more so than if there are only a handful of users. This might be a fluke if it weren't for the fact that both the Mia and the Mia 2 enjoy the same sort of positive reponse.
And it's not just that brush that people say works well, it's pretty much the entire product line. It would be hard to fake this many reviews, without making it look very obvious. It seems that they make high-quality products that actually work as described.
Final Clarisonic Review
It's hard to argue with so much positive feedback. Of course there are those that didn't have a good experience with the product, which is to be expected when you're talking about something as subjective as skincare, and beauty. It would be incredible to have a product like this with zero negative feedback. There is room for user error, and there aren't too many various types of skin to be able to treat everyone effectively.
That being said, the overwhelming majority have reported that this system truly is revolutionary, which is why you owe it to yourself to give it a try on your own face and see what all the fuss is about. You have an 80% chance of liking or loving it, and we like those odds.
Our Recommendation
We're going to jump on board and recommend Clarisonic cleaning system, especially the Mia 2. This model combines all of the benefits from the original, in a smaller package at a price point that was the difference between the cheapest and most expensive model they make. When you use their specially formulated cleansers along with the brush, you're using a pretty well-developed and effective way keep your skin as clean as can be.
What do you think? Does Clarisonic work or not?