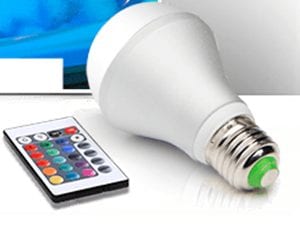 Lighting does a lot for our homes besides illuminating an area so we can easily see it. For those that like to use lighting to set a mood then you may want to take a look at Click a Color.
Overview
Click a Color is just like your standard LED light bulb but it has some extra features. You can change it to 16 different colors, all with the use of a control. Plus you can dim the lighting to suit your preference.
The Claim
The company claims this light bulb will fit anywhere a standard one does. They say it is energy efficient and will last for years.
The Hype
Most everyone likes at least a few different colored lights in their home, but it can be a hassle changing these or deciding on the color. The Click a Color seems to solve this problem with its offering of 16 color choices and easy changing with the remote control.
The Cost
You can get a single Click a Color for $14.95 and $7.95 shipping and handling. Or you can buy a pack of four for $59.80 and this includes four controls.
The Commitment
There isn't much you are going to have to do once you put your Click A Color bulbs where you want them, except decide on the color you want for the moment. You may want to do a little pre-planning before you order as to where you are going to use these. This will help you determine how many you really need or want.
Evaluation
When you stop and think about it, there are a lot of different places around the home that you may like to use some colored lighting. It is great for rooms like the TV room or the bedroom where you want to create a relaxing atmosphere with the right type of lighting. It is great to be able to use colored lights as part of your theme for a party. Then for outdoors it is nice to have colored lighting to accent the landscaping. One thing to keep in mind is if you are intending to use it for outdoor use, then make sure the fixture you are going to be using the bulb in is safe and meant for outdoor use. Also, these lights only light up a small area, so make sure you keep safety in mind regarding this. You will probably get about 20 watts of light and maybe a little less.
Final Click A Color Review
We are going to give the Click a Color a Try/Buy rating. We would have given it a thumbs up except you can buy something very similar to this on Amazon for a little less money.Actually there are several selections there at various prices.
Our Recommendation
Overall we have found that there are a lot of people that like this ideal of a multi-light light bulb. If you really want to get fancy with your lighting then with a little research you are going to find that there is a whole variety of lighting opportunities, and some with unique features. Most of the specialty lighting has now become quite affordable. One that we found that has become quite popular is the Shower Wow. This is a really neat product if you like something different.
What do you think? Does Click A Color work or not?