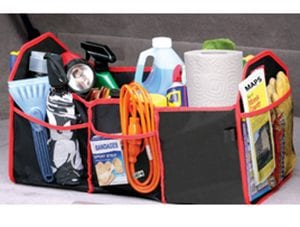 Sometimes small items can be really important for making life easier, so let's find out if the Trunk Caddy has what it takes for keeping our vehicles more organized.
Overview
The Trunk Caddy is a small compact storage container that fits nicely into the trunk of your car. It allows you to keep most everything that you normally carry in the trunk more organized and stationary.
The Claim
The company is saying that the Trunk Caddy is lightweight and portable, but sturdy. They are also saying that it is washable which is great. They are indicating that it has lots of sections which helps to organize more effectively.
The Hype
Anyone that carries various items around in the trunk of their car soon discovers that it doesn't take long before it can look really messy and creates a challenge to find something. Being able to keep all those miscellaneous items in one storage container really cuts down on the frustration of trying to find something in a hurry. This is all the enticement that most people need to show some interest in the Trunk Caddy.
The Cost
You are going to have to pay $14.95 plus $6.95 shipping and handling. You can add an extra $6.95 to your order and receive a second Trunk Caddy free. They are offering as a bonus two insulated coolers with this double offer, but it looks like you have to pay an extra $6.95 for these as well.
The Commitment
Once you receive your Trunk Caddy you are going to have to take the time to gather up all your trunk items and organize them in your new product. Then going forward you are going to have to remember to store any new items in this organizer as well.
Evaluation
As always we wanted to see if a product such as this really would grab the attention of the people in general. It seems as though it does as there are many different types being sold. We checked out a popular one on Amazon , and it has received some good reviews. This is the Honey-Can-Do SFT-01166 Soft Storage Chest. There are some differences between this one and the Trunk Caddy. The Trunk Caddy has three compartments, while the one on Amazon has two. However, the Honey-Can-Do has an insulated section which is pretty neat.
Final Trunk Caddy Review
We're going to give the Trunk Caddy a thumbs up rating. We like the innovative ideas that the promo video suggests in regards to how you can put this item to good use. Another feature we liked about it was the fact that it has grips on the base so its not going to slide all around in the trunk.It has good durability and its flexible enough that you should be able to find room for it. Especially after you have gathered up all the loose items that you are going to be storing in it.
Our Recommendation
It really is important to keep the items in your trunk organized. Some items can spill and not only is this a nuisance but the liquid could damage the interior of the trunk. If you are going to invest in this item then do make it a point to use it, and don't just let it become a novelty for the first few weeks. One of the uses for this product that was mentioned was for using it when you are shopping. Perhaps a better solution for the grocery store trip would be the Smart Cart.
What do you think? Does Trunk Caddy work or not?