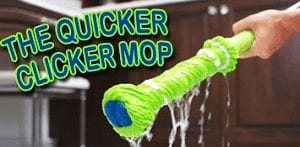 When it comes to house chores some are worse than others, and fortunately some of them only have to be done every so often. Floor cleaning however, is one of those tasks that seems like you no sooner get it done, then it needs doing again. So our mission is to help determine which floor cleaners are going to make life a little easier for you and, we decided to take a look at the new Clicker Mop.
Overview
The Clicker Mop will most likely draw some attention just because its one of those As seen on TV products. This type of marketing always seems to make most any product look good. What is enticing about this particular mop is you don't even have to get your hands wet by wringing it out. All you have to do is twist the device that is located on its handle and it wrings the mop out for you. Now there have been a lot of nifty floor mops to hit the market lately such as the Spin Mop which too allows you to keep your hands dry. So you may be thinking what is the difference between these two mop types? Basically it comes down to whether you want to use a foot action to remove the water from the mop like you do with the Spin Mop, or would you rather use your hands and use the twisting gizmo on the Clicker Mop? Lets see if there are any additional differences.
The Claim
The claim that is being presented with this product is that it is quick and easy to use. It is lightweight and of course does a great job of cleaning your floors. They say that it can hold up to 10 times its weight, so that's pretty good. They could also be a money saver too, because you can wash the mop head to get it nice and clean for its next use. The marketers are indicating that you will get a good 2 years use out of the original mop head.
The Hype
Anything that is going to make any household chore quick and easy, yet get the job done is going to draw some attention. The hype around the Clicker Mop addresses all all these wants and needs. Then when you can add some money saving to the process as well it pretty much becomes a seller.
The Cost
The current promo for this product is a little interesting and controversial. The selling image says that you can buy this mop for only $10. plus shipping and handling. When you read the promo print however it is a different story. It is indicating that you will need to pay about $20. plus an extra $8. roughly for the shipping and handling. However, this does include an extra mop head. Now they are referring to this as a Clicker Mop Set, whereas the image promo is just showing the mop itself without the extra head. Still when you compare this to what the Spin Mop was selling for, its less money, but then it came with the pail too.
The Commitment
The one commitment you have to make is to plan on washing your floors, but then this is part of your household chores anyway. You are just going to have to remember to use the Clicker Mop and put it through a good workout. On occasion you will also want to remember to wash the mop head so it remains in good condition.
Evaluation
Based on the great response that the Spin Mop got and this Clicker Mop is similar to it overall, we think its going to be well received. Perhaps the only hold back would be for those who have sore wrists and find it easier to use a step mechanism that helps to wring the mop out.
Final Clicker Mop Review
We are going to give the Clicker Mop a solid Try/Buy. These types of mops really do go easy on the reduction of back bending when it comes to traditional mops and the way they have to be rug out. Plus with an easy to wring action like this mop chances are you are going to get your floors a lot cleaner and faster because the dirty water is thoroughly being ejected from the mop.
Our Recommendation
While wringer type mops have been around for a long time and sure to stand the test of time in the future, a lot of people are looking at the steam mops as a great alternative as well. A completely different concept in that mop is necessary. However, they do come with a heftier price tag and have their only plus and minuses about them.
What do you think? Does Clicker Mop work or not?