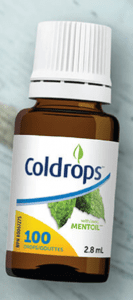 The cold and flu season is something we all have to deal with. It is not something new or something that skips a season. As a result of most people already have their favourite remedies although some work better than others. With modern technology, there are always different products becoming available. One that maybe should be considered is Coldrops.
Overview
Coldrops is a natural based cold medicine. It only requires the user to take one drop to start feeling the relief of cold symptoms.
The Claim
Coldrops according to its site states that the product is formulated with methol and fractionated coconut oil. While these are important ingredients what is just as important is what Coldrops does not contain. Which is gluten, wheat, soy, peanut, dairy or corn. Which are often filler ingredients that are found in other types of cold remedies?
The Hype
The hype for Coldrops is that it is a natural cold relief product. One is not dealing with a lot of unwanted chemicals while trying to find some relief from some of the nasty cold symptoms that come with a cold.
The Cost
The cost of Coldrops will vary depending on where you buy it. The price may range between $9.99 to $11.99.
The Commitment
The commitment is to have Coldrops on hand when the first signs of a cold are appearing. It can be used through the entirety of the cold for temporary relief of cold symptoms such as stuffy nose and sore throat. One of the aspects that make cold relief somewhat unique is the way it can be used. One drop is placed on the back of the hand then licked off it from there. That is according to one of the advertisements highlighting this product. It also comes in a mist form.
Evaluation
There may be some question about putting a drop on your hand and accessing it from there as the skin is full of germs. But this is up to the user to make their conclusion. Taking a closer look at Coldrops indicates that this product is only made from wild mint with the coconut oil being the carrier. Basically Coldrops is an alternative to using cold and sore throat lozenges. But, again not being subjected to a lot of ingredients that don't have any value or ones that people have difficulty tolerating. Often lozenges contain a lot of sugar to mask the bitter ingredients. Taking one drop of the ingredient that is going to bring the same relief for some people seems to be a more acceptable approach.
Final Coldrops Review
We are prepared to give Coldrops a try/buy. As an alternative to other products that are claiming to bring relief from the stuffy nose and or a sore throat. This relief is only temporary, and it should not be viewed as a cure. There is no cure for the common cold. Sore throats have to be watched as they can turn to something more serious.
Our Recommendation
The stuffy nose is one of those cold symptoms that is really aggravating. If something like Coldrops isn't bringing enough relief one could also think about trying Navage.
What do you think? Does Coldrops work or not?