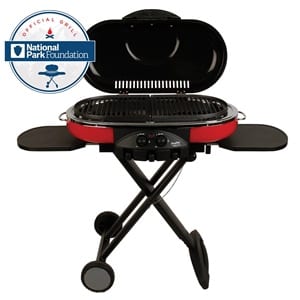 When you want to enjoy some road trips it can get expensive having to stop at restaurants and eat. With this Coleman Camping Road Trip Grill LXE you can have a great bbq along the side of the road or at many of the park settings which will really add some fun to the family outing.
Overview
In keeping with our Father's Day and the coming summer season theme of reviews this week we have the Coleman Camping Road Trip Grill LXE. This BBQ is portable and handy for those trips to the park or camping in the woods.
The Claim
Coleman claims that this portable BBQ will fulfill all your cooking requirements in a compact and easy to use format.
The Hype
The hype surrounding the Coleman Camping Road Trip Grill is that the power and portability offered by this unit make it the perfect accompaniment to your days in the park with the family or the camping trip to the great outdoors.
The Cost
The cost of the Coleman Camping Road Trip Grill LXE is a reasonable $295.95.
The Commitment
The commitment necessary for the Coleman Camping Road Trip Grill is pretty minimal. The ability to fold and store the unit makes it actually easier to store than a typical full size BBQ without compromising on power and performance.
Evaluation
The Coleman Camping Road Trip Grill is a great BBQ that offers the power to cook great and plentiful amounts of quality food on your camping, hiking or picnic trips. It is very compact with the ability to fold to an easily manageable size that will fit in any car or truck with ease. It also has a set of wheels and a large pull handle to facilitate moving it from area to area with very little effort. The cast iron and porcelain internals are easy to keep clean and provide an excellent and durable heating surface. There is a removable grease tray to help with the cleaning after cooking foods with a tendency to drip like hamburgers. The PerfectFlow Pressure System provides a full 20,000btu of cooking power designed to perform with a steady and even flow even in colder weather. This is a great feature especially when camping later or earlier in the season. Coleman offers a variety of separate cooking services that can be purchased separately that include a griddle or stove grates to allow the user to cook items that they would be unable to cook on a traditional BBQ surface. The unit encompasses the Instastart ignition system to allow for matchless and reliable lighting.
Final Coleman Camping Road Trip Grill LXE Review
This is a fantastic unit that does everything it says it will and more. The ease of use and the portability make taking this unit camping or even to the local park for a picnic easy and virtually effortless. The pull handle and the solid wheels allow you to take it virtually anywhere. The reputation that precedes Coleman for its BBQ's is in no danger of being sundered with this excellent product. Great cooking power, portability and the ability to change cooking surfaces make this unit a must have for any outdoor enthusiast. We own one of these units our self and would never exchange for anything in the same category. We give this unit a thumbs up rating, and would recommend it to any outdoorsman or family who enjoys cooking fantastic meals in the great outdoors.
Our Recommendation
Spending as much time outdoors as possible during the great weather is really enjoyable. Along with this great and easy to carry cooking unit you may want to add to your outdoor collection with the great camping cookware that we talked about earlier.
What do you think? Does Coleman Camping Road Trip Grill LXE work or not?