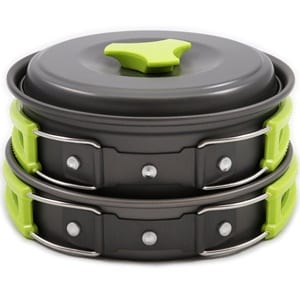 When we come across a good camping product we like to bring it to you as there are many that really enjoy backpacking which means they need to travel light. This Camping Cookware Mess Kit will allow you to do just that. Everything you need to cook with is in this very compact kit.
Overview
This Camping Cookware Mess Kit by Mallo Me is designed to encompass all the utensils one would need to cook for themselves in the great outdoors.
The Claim
The claim by Mallo Me is that this Camping Cookware Mess Kit contains all of the required things to cook hearty meals while in the bush and it is very easy to carry while camping or backpacking.
The Hype
The hype is pretty much the same as above. Everything you need to cook great meals in the bush contained in a single stackable unit that is easy to carry and makes life much easier when heading out into the great outdoors.
The Cost
The cost of this Camping Cookware Mess Kit is very reasonable $24.97 on Amazon. This is comparable to other more expensive kits of the same nature with a much higher price tag.
The Commitment
The commitment is pretty small with this item. You simply need to hang it off of your backpack when hiking or stuff it into a bag to bring along camping. When not in use it takes up very little space and requires absolutely no maintenance when storing, simply toss it on a shelf in the garage or basement until you need it again.
Evaluation
This item does pretty much everything it claims to do. It truly does have everything one would need to cook a great meal in the bush other than a heat source. The kit contains 10 pieces including a non- stick pot, a non -stick pan, a lid for the pot, 2 bpa free bowls, a stainless steel spork (fork and spoon combination for those wondering) a bpa free soup spoon and a wooden spatula for cooking. It also comes with a loofah for cleaning the utensils after cooking and eating. The entire unit is contained in a single draw string bag that easily hooks onto a backpack. The unit is designed to collapse into a single stack for fitting into the bag. The unit is made from very durable materials and certainly takes away the risk of forgetting something when heading out into the woods.
Final Camping Cookware Mess Kit Review
For anyone who has ever gone backpacking or portaging in a canoe they understand the importance in having a mess kit that has everything you need in a single unit in a lightweight and portable package. This unit ticks all the boxes. For this reason we are going to give it a Thumbs Up rtaing. It really does have everything you require to cook a meal in the bush other than a heat source that you will need to provide. Whether you choose a single burner camp-stove or the option of building a fire this unit will provide every utensil necessary to cook yourself a great hot meal in the bush. We love the fact that it collapses into a single stack with all components contained within. The materials are very durable and this unit will last a very long time. This is a must have for any serious outdoorsman (or woman).
Our Recommendation
We recommend if you are just beginning to build your adventure gear that you give this Camping Cookware Mess Kit some serious thought. If you are more into family camping and have a lot of gear to carry you may want to check out this car carrier.
What do you think? Does Camping Cookware Mess Kit work or not?