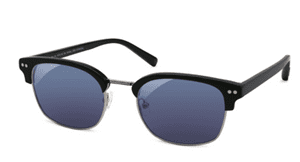 When looking for products and services that can help with different types of medical conditions it can be confusing. A problem that many people deal with is color blindness. For those that don't have this condition, it may not seem like an important issue. But, not being able to identify colors can have a significant impact on an individuals life. For this reason, it may be worth taking a look at the Enchroma Gamma Color Blind Glasses.
Overview
Enchroma Gamma Color Blind Glasses is being marketed as glasses that optical assistive glasses for enhancement for those with color blindness. They make it very clear that these glasses do not cure the problem. They also recognize that there are various forms of color deficiency and that the glasses may not work for everyone and that they may produce varying results.
The Claim
The claims for the Enchroma Gamma Color Blind Glasses is based on the recognition that there are different forms of color blindness. One of the most common types is what is referred to as red-green color blindness. This is thought to be a genetic condition. This form of color blindness can be broken down into two types which are Protan and Deutan. The claims being made for the Enchroma Gamma Color Blind Glasses is that for some of those having difficulty with the red-green perception they will be privy to a more accurate range of colors.
The Hype
The hype really depends on the type of success the Enchroma Gamma Color Blind Glasses brings to each user. Which as stated in the claims is going to depend on each.
The Cost
The cost for the Enchroma Gamma Color Blind Glasses varies depending on the style. For example, the Derby sells for $279. While the Bancroft sells for $339.(Cdn)
The Commitment
The commitment is no different than what it would be for wearing any other type of glasses. The user then has to determine if the Enchroma Gamma Color Blind Glasses are making a positive difference for them.
Evaluation
When looking at the credibility of the Enchroma Gamma Color Blind Glasses, it makes more sense to report on them as commentary rather than as a review. This is because every individual is different. Those who suffer from color blindness may have different forms of it. Also, in varying degrees. So one person doing a review is only going to be able to base it on their experience.
There has been some scrutiny into the effectiveness of the Enchroma Gamma Color Blind Glasses that is being reported as being outlined in an article published that related to researchers from the University of Granada. According to their reported findings, they indicate that the glasses do not make the vision of those with color blindness comparable to those who do suffer from this. What the findings of this research suggest is that the users don't see new colors but see the same colors differently. They feel that this might cause some confusion
Final Enchroma Gamma Color Blind Glasses Review
Then what also has to be taken into account is the feedback from the actual users. For example, on Amazon, there has been a collection of 98 feedbacks giving a total score of 3.8 out of 5. With 52% giving it a five-star rating. This supports the suggestion that the credibility of these glasses is going to vary according to each. We are prepared to give the Enchroma Gamma Color Blind Glasses a Try/Buy. It is up to the individual to determine if their condition meets the criteria as outlined on the website for the Enchroma Gamma Color Blind Glasses. Also, keeping in mind that there is a money back guarantee so it may be worth giving the glasses a try and determining if the results experienced are enough to satisfy the user.
Our Recommendation
There are many different types of eyeglasses out on the market. All of which are being promoted to meet the different needs that come with a vision.
What do you think? Does the Enchroma Gamma Color Blind Glasses work or not?