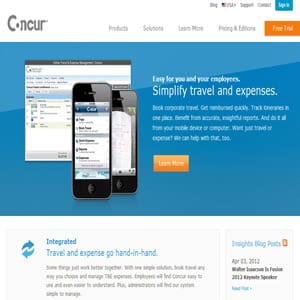 Concur is designed to give you hand in keeping track of travel and expenses for your business. With travel comes expenses, and it can be hard keeping track of it all of yourself as well as your employees. If you've been complaining about how hard it is to manage and organize all of this data, Concur might be the solution for you. But let's review how it works, and what type of businesses might benefit from it.
Overview
It can be a headache keeping track of all the myriad of expenses that accumulate during a business trip. Airfare, hotels, taxis, food, and small nickel and dime transactions can add up quickly. As the employee you want to make sure that you're properly reimbursed for this, and as the owner you want to make sure you can claim as much as you can for deductions come tax time.
The Claim
Concur claims to be able to make heads or tails out of your expense tracking and reporting for when you and your employees travel. They say you can get rid of the old fashioned way of keeping everything logged in spreadsheets and just use their software. They also claim that you can stop using paper receipts to keep track of purchases and expenses, and just have everything digitally logged when you use your credit card. They also say they help you see the bigger picture via graphs and data reports so you can better understand what's going on within your organization.
The Cost
It's $8 per user, per month to use Concur and all of its features.
The Commitment
The system is set up to be user friendly, but it will require a feeling out process in order to get familiar with how it works and all of the features it contains. It would be a good idea to set aside an afternoon to immerse yourself in it and set everything up. If you have a medium sized business, you might want to consider delegating this task, as the more people you have in your organization the longer it's going to take to have it set up and working properly.
Evaluation
We like that they give you a fully operational 30 day trial. It lets you get into the system and start using it without the pressure of feeling like you have to use it because you paid for it. You're able to customize things for your specific business, which is great because businesses are like snowflakes, no two are exactly alike. You can also add a credit card to it, so that it can automatically track and report charges that are made on it.
We like that you can choose to subscribe during your free trial and they won't bill you until you've used up the trial period. We also like that they make it easy to pay monthly, by automatically calculating how many users you have and billing you accordingly. It's also nice not to be wrapped up in any long term contract, and you can always cancel at any time if you change your mind. Some services out there make you sign up for specified periods of time, and charge you penalty fees if you want to break your contract.
Final Concur Review
We're giving Concur our Thumbs Up review and rating. The user interface is pretty advanced and user friendly, allowing you to drag and drop the different items you feel are most important right into your account dashboard. You can quickly and easily create expense reports, view credit card charges, and approve and process reports.
But the reason we're giving it our approval is that it lets you analyze the data. This can be crucial for your business, as it can help you identify where the money is going on these trips, and when it comes time to cut expenses, you'll be able to target specific transactions, or problem employees.
Also, the apps for the various smartphones are essential for keeping track of things while on the go. Without it, you'd have to find a computer to log onto, making it rather inconvenient, and easy to forget to enter transactions.
Our Recommendation
The free trial gets you access to everything, it's not limited by what you can do or how many users you want to add. You can take the full amount of time to decide if it's working for your business. If you've got a lot of travel booked for you and your employees over the next 30 days this is a great way to put it through its paces and see if it saved you time and a headache. If not, do nothing because you don't need a credit card to sign up. If you like it it's really easy to subscribe from within your user account.
What do you think? Does Concur work or not?