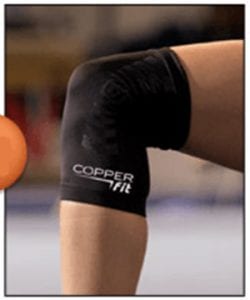 Anything that can help to relieve the aches and pains that most people suffer from time to time in a natural way, is something that should be considered. The Copper Fit is an item that is being promoted as being able to do this.
Overview
Many people have shown an interest in the Tommie Copper line, and of course when a product looks like it is going to be a success then its not long before it receives some competition. While the Tommie Copper products are more extensive meaning that there are several different items that can be purchased using the same copper technology, the Copper Fit is focusing on the marketing of compression sleeves.
The Claim
The Company claims the best use of this product is for the reduction of muscle stiffness and joint pain. They indicate it helps to reduce swelling. They are stating that the use of copper as part of their technology and copper is antimicrobial which helps to ward off damaging bacteria. They are also promoting that it could help to prevent injury.
The Hype
It doesn't take much hype to convince people that if a product is capable of reducing pain and discomfort it is at least going to draw a fair amount of interest. Then the next approach in the marketing material has to be why the product works and how it can ward off some potential side effects. For example, when it comes to compression items a lot of people worry about the sweating that it can create and this leads to problem with the skin. The promoters of Copper Fit have quickly addressed this concern by indicating their wicking construction of the sleeves helps to take the sweat away from the body.
The Cost
For about $36. which includes all of the shipping you can take advantage of the Buy One Get One Free promotion that is currently being offered. It does come with a 30 day money back guarantee, minus the shipping and handling.
The Commitment
You are going to have to be ready to put the compression sleeve to good and consistent use as per directed. Don't fall into the trap of being caught up with a new product and use it faithfully for a short period of time, then forget about it. You probably should also check with your health care provider about the use of compression for your particular type of problem.
Evaluation
There has been a lot of advertising and promotion in regards to the Tommie Hill line lately and we want to take a close look at how this and the Copper Fit compare. We did do a review on the Tommy Copper in the past. We have noticed on our review that it has received almost equal thumbs up or down feedback. Checking it out on the Amazon site the Tommy Hill Knee Sleeve averages about an overall 4.5 star rating. The Copper Fit is not possible to compare in regards to product feedback as yet as it is still in its new promotion stages.
Final Copper Fit Review
We have decided to give the Copper Fit a Try/Buy rating. Price wise it is comparable to similar products on the market and even less when you consider you are getting a second one free with the price of shipping included. Compression does work for some people, and in our opinion while copper is being mentioned for its potential benefits it is not the main component that is being highlighted. You will have to choose between the elbow or knee Copper Fit sleeves according to your specific needs. You will find this to be the same with any compression type product as they are structured for a specific area of the body.
Our Recommendation
You would think that with this product being named Copper Fit that the copper would be the star of the product and the marketing material would all revolve around this. Yet although copper is mentioned as part of the components that make up the knee and elbow sleeves being promoted, it is not being centered upon as the main focus. It almost seems that the benefits of compression is the highlight of this product. It appears to be the same with the Tommie Copper line as well. The Copper Fit is comprised of 82% polyester,14% Spandex,4% copper and other fibers. The Tommie Copper knee sleeve is comprised of 57% copper nylon, 29% nylon,14% spandex.
What do you think? Does Copper Fit work or not?