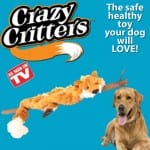 Crazy Critters seem, well, crazy when you first see them. But products for dog owners and dog lovers are always making their appearance on the market. The more unique features it has, the more attention it will get from the crowd of pet owners. Crazy Critters are toys that are especially made for all breeds of dogs.
As the house can get pretty messy when dogs are allowed to play with regular plush toys, it can also prove dangerous to them because some dogs even eat the stuffing from the toys. So in order to provide entertainment for these lovely pets while also taming their destructive behavior, toys like Crazy Critters become necessary.
Overview
Crazy Critters, as advertised on TV, are exciting toys for dogs. These toys were initially released to take on the form of foxes and raccoons, but now there other variations too. These can be compared to regular plush toys, except that there are no stuffing inside the toy animals. Instead, the toys are flat and made to be 22 inches long to make it easier for dogs to play with.
The Claim
These types of toys are claimed to be good for all types of dogs whether big, small, senior dogs, or puppies. This product can serve as a chew toy, and it can be used for other fun activities as well. Because these plush animals have squeaky heads and tails, it becomes very attractive to dogs, as they will get the sense that the toy responds to their actions.
The Hype
If you have seen the TV advertisement for this product, you are probably eager to get your hands on these Crazy Critters too. The video shows dogs eagerly playing with their toys, and there are even shots of dog owners themselves playing fetch and tug-of-war with their favorite furry friend. All the excitement and fun embodied in the advertisement will make every dog owner feel that this is a must-have product.
The Cost
You can get one of the Crazy Critters for only about $10 online. At the time of this writing, a bonus toy is also included in the package with separate shipping costs of $6.99 each. There are also websites that are offering a 6-pack assorted type of toys for about $35, and the package will include a beaver, lion, tiger, squirrel, skunk, and leopard plush toys.
The Commitment
Your dog can enjoy playing with Crazy Critters toys whether alone or with a group of other dogs. If your dog bites onto this toy, it will give out a squeak to stimulate your dog to play with it further. 2 dogs will also enjoy pulling at a Crazy Critter like a tug-of-war activity. And if you want to have fun with your canine friend, this toy is also great for a fetch game.
Evaluation
The concept incorporated into this product is great! Dogs definitely love these toys because of its overall functionality and design. And the price for these Crazy Critters are very reasonable too, as you can get these for only about $5 each. However, there are reports from dog owners that the product is not as tough as advertised. And there are instances when the toys are destroyed in minutes by super active dogs.
Final Crazy Critters Review
They work as exciting toys for dogs. However, they don't last that long and some of their components, especially the squeaking part, can harm your dog when accidentally swallowed. So if you are going to let your beloved pet play with this kind of toy, make sure that you do so under close supervision. This way, you can monitor if the toy is still intact or if it is already torn apart and posing a dangerous situation for your dog.
Our Recommendation
This is a great toy, and we highly recommend it for small breeds of dogs. Although large breeds of dogs will surely love this toy too, we are not sure of its safety, as the product is not very durable.
What do you think? Do Crazy Critters work or not?