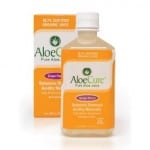 The theory behind AloeCure seems valid. Aloe Vera itself has been known for centuries as one of the most beneficial plants to mankind. It has high healing properties because the plant is rich in vitamins and minerals. Due to the plant's natural healing ingredients, it is now being used in most health and beauty products.
You can find this component in most of today's skin care and hair treatment solutions, and it is also useful in balancing stomach acidity when taken orally.
Overview
The American Global Health Group is marketing a product that is based on the Aloe Vera ingredient. It is a liquid vitamin supplement called AloeCure, and the main ingredient for the medicine is sourced from organic farming. The company that manufactures and sells the product is a global corporation, and it has its own production facilities and extraction laboratories as well.
The Claim
AloeCure claims that it is the number one Aloe Vera product available on the market today. It boasts of high quality raw materials that are sourced from organic farms, and therefore no pesticides or herbicides are present in the production of the finished product.
Because Aloe Vera works as an acid-balancing component, it can relieve acid reflux symptoms as well as heartburn and ulcer discomforts. In fact, it even has a good effect on bowel movements, as this plant ingredient can soothe and heal all types of gastrointestinal issues.
The Hype
There are all sorts of dietary supplements that claim to balance stomach acidity. However, sufferers of intestinal discomfort are looking for products that are natural and effective. So when a natural product like AloeCure makes the scene and claims to provide relief for digestive problems, it is immediately met with enthusiasm.
Aloe Vera is making waves in the line of beneficial plants, and its many healthy benefits are already well known throughout the world. Medications like this differ from traditional medicines, because the usual types of acid neutralizing medicine can have harmful side effects.

The Cost
A one month supply of AloeCure costs around $85. This pack contains 4 bottles of the liquid vitamin supplement plus 2 additional bottles as added bonus. It also includes an Aloe Vera gel product which can be used on the skin to treat wounds, cuts, insect bites, and burns. And if you want to purchase a 3-month supply, you need to pay around $170.
The 3-month supply package will carry 12 regular bottles of the supplement plus 6 additional bottles as bonus and 2 tubes of the aloe gel skin treatment. In both packages, you have the option to either get the grape flavored or natural flavored liquid medicine.
The Commitment
In order to make AloeCure work, you need to take 2 ounces in the morning and 2 ounces at night. This method will provide you with a 24-hour relief from stomach acidity. Note that this product has no harmful side effects, so you really have nothing to worry about when it comes to its daily consumption. In fact, this liquid supplement is also recommended for everyday use, as it can promote one's overall health as well.
Evaluation
This is a good vitamin supplement product. Because it is certified organic, it is extremely safe for human consumption. Even its processing is carefully developed, so as not to dilute the consistency of the Aloe Vera ingredient.
This is actually very evident, as the texture of the medicine is slightly slimy just like the composition of the gel inside the plant, and the bitter taste is there too. That's why a grape flavored alternative is also offered, because some people cannot tolerate the real taste of this naturally flavored supplement.
Final AloeCure Review
Based on a majority of user feedback, this AloeCure really works. For some people, the relief can be felt in as fast as taking one dose of the supplement. However, there are also those who didn't experience any relief from their stomach problems. In fact, there are even reported cases of money not being returned in spite of the company's money back guarantee.
Our Recommendation
We are recommending AloeCure because this supplement is not only good for the stomach but for one's overall health as well. If you find that the product is quite expensive when purchased in the 1-month or 3-month pack, you can opt to buy one bottle to try it out first. A single bottle will only cost you around $15, and you can see for yourself if this supplement will work for you or not.
Read user reviews on AloeCure
What do you think? Does AloeCure work or not?