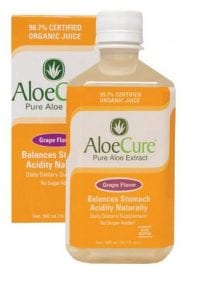 A lot of people suffer from a variety of different digestive problems. When they do it can be hard to diagnose and then even more difficult to treat. Many would prefer a natural form of treatment. This has created an interest in a product called Aloe Cure that is being promoted for attacks of IBS, acid reflux and heartburn.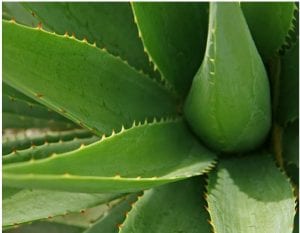 Aloe comes from the succulent plant Aloe Vera. A big benefit of the  Aloe is its  ability to keep skin hydrated and clear. There are over 400 types of aloe plants but only one species provides the miracle substance that provides healing properties. It is called Aloe Barbadensis Miller. The leaves of the Aloe Vera plant contain an abundance of antioxidants such as:
Vitamin A
Vitamin C
Vitamin E
7 of the 8 essential amino acids
Minerals
Enzymes
Benefits of the Aloe Plant
Supports Immune System
Provides amino acids, minerals, vitamins and healthy enzymes
Leaves skin feeling healthy, hydrated, clear and beautiful
Improves the digestive system
What Is AloeCure?
AloeCure, an American owned and operated company. Their focus has been on developing the bio-activity of the Aloe Vera Plant.
Their  products are only made using organically grown Aloe Barbadensis Miller species of aloe plants.
AloeCure owns all their own aloe farms and manufacturing locations that are used to produce their products
.All of the companies farms and facilities are certified by one of the most demanding organic certifiers worldwide, Ecocert. The company has developed a quality line of products containing aloe.
Aloe Cure Products Include
AloeCure Ædvanced Formula Capsules
AloeCure Pure Aloe Vera Extract
AloeVita Water with Pure Aloe Leaf
Instant Skin Hydrator
Aloe Vera Juice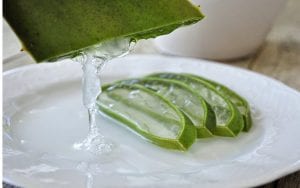 People have been using the juice from aloe vera plants for many years. It was named the plant of immortality by the Egyptians. Today aloe vera products are very popular due to the knowledge surrounding its health benefits. The aloe juice provides overall health benefits for the mind and body.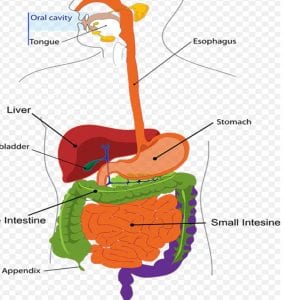 Benefits of the AloeCure Pure Aloe Vera Extract
Used to balance stomach acid by a natural process by:
Helps to balance stomach acidity
Acts as a natural acid buffer
Soothes the digestive tract
Promotes healthy digestion
How Does It Help
A special formulation for human consumption of the inner gel of the plant leaves provides an excellent extract for overall health benefits and healthy digestion. The product raises Ph levels to aid in the relief of indigestion. This product also helps with the immune system as it contains acemannan. It also acts as an aid in the repair of tissue and the healing of wounds.
How Much Does It Cost?
Depending on where it is bought a bottle of AloeCure goes for about $14.95. It is recommended that it be purchased in quantities because of the amount that is taken. The Company sells it by lots where if  a specific quantity is bought then so many free bottles are given. These offers can change at any time but they are the most economical way to buy a good amount.
For example, if a purchaser buys 24 bottles they will get 12 free. The cost would be $358.
AloeCure Reviews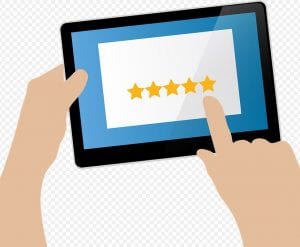 When looking at any product that is being used for a health issue it means looking at the reviews very carefully. With everyone being unique what works for one person may not work for another. Or the results will vary greatly.
Overall
AloeCure has received 607 reviews with a 3.8 5 star rating. 55% have given it the 5 stars while 18% gave it a 1 stat. Indicating that the lowest number were the most disappointed with it. So this may have to do with the variables of the condition it was being taken for.
Common conditions AloeCure Is Being Used For
GERD
Chronic Gastritis
Acid Reflux
Looking at three of these examples and the results that the users got for each of these conditions two were prepared to give it 5 stars and the one with GERD gave it a four.
The Negative Reviews
Out of the 607 reviews, 231 were negative.
The one considered to be the most negative simply claimed it did nothing but did not indicate what it was being treated for.
Among several of the other negative reviews, there almost seems to be a pattern. Some of the same conditions were being treated like those on the positive side. However, many of their conditions appeared to be much worse. Several of them were also on prescriptive medications.
Your Decision
Unfortunately with a product like this that is treating a personal condition, it comes down to be a hit or miss. The decision will probably focus on the cost and the risks of paying the price for something that won't work.
Are There Alternatives
With these digestive conditions being so common it stands to reason there will be a whole gambit of other products to choose from One that could be an example is:
Acidil
However the difference here is the conditions that it is targeting which are:
Hearburn
Bloating
Upset Stomach
Acid Indigestion
Overall it is getting good results and ratings. But the conditions do not seem to be on the same level as what AloePure is targeting.
Targeting GERD
To focus on one of the more severe conditions it may mean turning to a product like
Pure TheraPro RX
This is for the treatment of Leaky Gut which is often associated with GERD. It is a popular product and it receiving a good rating. It sells for around $41.  keeping it in the affordable range for products that fit into this category.
Prevention and Education
Being informed and taking preventative steps for these digestive conditions can be a big help as well. There are some great resources to help with this.