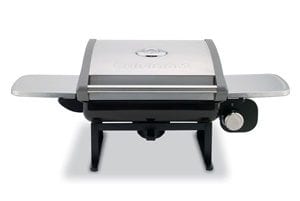 With summer finally here and the beautiful weather becoming part of the daily routine the time is finally here for all of the outdoor adventures that we wait for with baited breath during the colder winter months. One of the most beloved things to do during the summer months is Barbequing our favourite foods! While at home most of us use our gas grills to do this but also like having the same cooking options when we head to the beach or on a picnic. The Cuisinart CGG-200 All Foods Tabletop Gas Grill lets you do that with simplicity and style!
Overview
The Cuisinart CGG-200 is great for cooking all types of foods and is a 12,000-BTU portable outdoor tabletop propane gas grill.
The Claim
The claim is that this Cuisinart CGG-200 will let you cook those favourite foods no matter where you find yourself in the outdoors and away from your full sized gas grill. The unit offers a full 12,000 btu's so cooking all your favourites will be very easy and prevent limiting what you can and cannot cook.
The Hype
Much of the hype surrounding this Cuisinart CGG-200 is that it is made by Cuisinart which is a premier maker of excellent cooking and kitchen apparatus. When you see the name Cuisinart you know you are getting a good quality unit that will offer many years of dependability.
The Cost
The cost of the Cuisinart CGG-200 is $361.57. While this may seem high for a portable BBQ but the quality you get will ensure that this will be the last one you need to buy for many years unlike many of the slightly lower priced units similar to this that only last a year or two at best before they give up the ghost. You really do get what you pay for and this is a perfect example of that adage.
The Commitment
Not much commitment required other than the commitment to being able to prepare really good foods while on the road or at the beach! The Cuisinart CGG-200 folds to a very small size for storage making it the perfect unit for all those outdoor adventures.
Evaluation
The criteria for a good portable BBQ is of course size, cooking power or BTU's and the ease of use. The Cuisinart CGG-200 Table Top BBQ fits all those categories with grace and style. Not only does it look really, really cool it brings a full 12,000 btu's to the great outdoors so you can cook all of the foods you love with little effort while on the beach or at that favorite picnic spot. The gas fuel means that you no longer need to carry or try to start any charcoal to get a hot meal while in the outdoors which is one of the most beneficial attributes of this unit and ones like it. It also has an electronic ignition switch so you do not need a source of flame to get it going. The rack is big enough to cook a wide variety of food and is powerful enough to get the job done no matter what you cook!
Final Cuisinart CGG-200 Review
There are really no requirements for a table top BBQ that this Cuisinart CGG-200 does not fulfill easily and stylishly. It is very well made and the quality is evident as you would expect from this manufacturer. You will most likely find no better unit of this type on the market today in this price range. This product gets a thumbs up from us.
Our Recommendation
If you need a portable BBQ for those summer events then this Cuisinart CGG-200 will fit the bill very, very nicely. You get all the most desired features contained in a very cool looking package. For a great accessory for your grill you may want to take a look at the Miracle Grill Matt.
What do you think? Does the Cuisinart CGG-200 work or not?