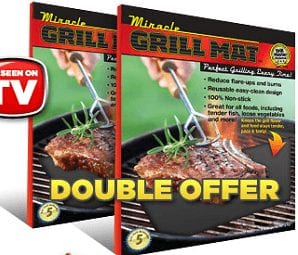 The Miracle Grill Mat is a flame retardant mat that you lay on top of your grill so you can cook a variety of items without them becoming charred or falling through the grate into the flames. The question is does the cooked food taste as good as that which the flames actually reach?
Overview
A whole lot of people enjoy using their  grills and barbecues, but one thing they don't like is the clean up afterwards. Or how about those small veggies that you really want to give that smoked taste to but they end up in the fire? With this product those issues are well taken care of. In fact you can even fry up some eggs if you want to. The mat is stick free so half of your food doesn't end up getting left on the grill.
The Claim
The Company claims that it is absolutely stick free and super easy to clean by just wiping it off with a towel. They state that if you want you can even put it in the dishwasher. The company further indicates that this product helps to reduce flare ups from grease hitting the fire, and you can also cut the mat to fit your grill. They state it is good for both indoor and outdoor grills and can be used with heat temperatures up to 500 degrees.
The Hype
The hype really evolves around the quality of food that is enhanced with the Miracle Grill Mat, plus its ease of use and clean up. The marketing material cleverly touches on all the pain points of cooking on a open grill. There are a lot of demands placed on this type of cooking. Cooks want the best tasting food that comes with open flame cooking, while at the same time locking in the natural juices and no messy or complex cleanup. The Company of this product has aptly met the demands of the open grill cook.
The Cost
When figuring out your cost for this product it will be depend on where you are ordering from. For some states it will come to $27. which includes the shipping and handling fee plus $1. web fee. For Canadian orders its a little more at the cost of $29. which includes a little more for the shipping and handling and the $1. web fee. There there are the applicable taxes. For this price you are paying for one and getting another one for free. With your order you also get a bonus of the Flexible Wire Miracle Skewer but you will need to add on an additional $4. processing fee. The money back guarantee is for 30 days minus the shipping and handling costs.
The Commitment
There really is a tendency for many of us to buy nifty gadgets like this then shove them away in the cupboard and they are soon forgotten about. You will have to make up your mind to first size the mat to your grill by cutting it. Then use it as directed and clean it as soon as possible afterwards to make the cleanup task even easier.
Evaluation
There are a lot of similar products and perhaps even knock offs of this particular product. Based on this there are a lot of mixed reviews. Many of those that talk particularly about the actual brand Miracle Grill Mat for the most part seem impressed with it. In comparison to a similar grill mat product on Amazon the reviews of that particular product are quite mixed. They complain about it being difficult to clean and in some cases it even melted.
Final Miracle Grill Mat Review
We're going to give the Miracle Grill a thumbs up. When watching the video you will see it can be used for both indoor and outdoor grills. It is recommended for use with temperatures up to 500 degrees. A lot of people that love cooking outdoors should find this product ideal because of its many benefits. Being able to cook items that normally are difficult to cook on a grill like eggs or bacon is a real bonus. It makes it an ideal product for those who love to go camping and don't want to have to carry a lot of pots and pans to cook foods like these.
Our Recommendation
We are recommending the product based on its innovation. Any product that makes outdoor cooking more fun and convenient is a real plus. We have reviewed another type of outdoor cooking item like the Stove In a Can before which too is based on outdoor innovation and a lot of people received enjoyment from that as well. Anyone that has an indoor grill will tell you that a lot of times they don't like to use it because they are so difficult to clean afterwards. Now by using this Miracle Grill Mat that most likely won't be a problem, and you should benefit from more use of your grill that has been tucked away in the cupboard.
What do you think? Does the Miracle Grill Mat work or not?