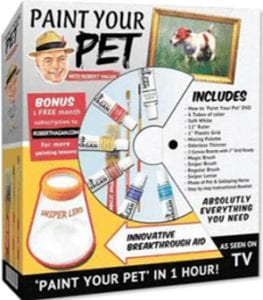 The Paint Your Pet is a kit that includes everything you need to be able to paint a picture of your pet by following the detailed instructions of a well known artist, Robert Hagen. The question is do you need to have any natural talent to make your pet drawing a success? Let's find out.
Overview
Many people like to draw but just don't feel that that they have the skills to make it worth their while. This kit could change that way of thinking. It offers a different approach to creating a painting not only with step by step instructions, but by using some specific tools to help the novice artist reach some pleasing results. The kit is loaded with everything needed to complete the project from start to finish. It has 2 canvas boards with an easy to follow grid. There are 6 paint tubes of various colors plus a soft white. Also included is a small ruler and grid,mixing palette,thinner,3 special brushes, 2 animal photos for examples,and an instruction booklet. Now also in the kit is a special lens which makes this kit special, and included also is one month of free lessons that can be found at Mr. Hagen's website, and an informative DVD.
The Claim
The promoter's claim that anyone can complete a very good rendition of their pet in the form of a painted picture because of the unique tools that the kit contains, and the simple directions of Robert Hagen. They claim that they have 2 specific brushes that are special. These are the Magic Brush and the Sniper Brush. What the marketers put a lot of emphasis on is a tool called the Sniper lens. They claim that anyone can learn to paint their pet in less than an hour.
The Hype
The focus of attention for marketing this kit is that it appeals to both pet lovers and those who also have an interest in art, but don't have the natural talent to be good at it. This is a huge target market. By making it clear that the combination of the tools in the kit and the expertise of the instructor is the key to success, it makes it enticing. Then they top off the appeal by making it known that it is so easy that anyone can learn in less than an hour and it only takes 4 easy steps to complete the project.
The Cost
Presently the Paint Your Pet kit is being offered for $28. which includes the shipping and handling and comes with a 30 day money back guarantee. The promotion of this price says it is a reduction from the original price of $59.95.
The Commitment
If you are going to give this kit a try then you are going to have to devote some time to it. Although it is promoted as being able to complete your finished piece within an hour, you will probably need to take more time as you will need to watch the DVD and read the instruction video. To get everything that the kit has to offer you will also want to take advantage of the one month free lessons which is also going to demand your time.
Evaluation
When you look at all of the items in the kit it really does seem like you are getting a lot. The kit has everything you need from start to finish of your project so you don't have to go looking for extras. There doesn't seem to be any shortage of instructions when you consider there is both a DVD and an instruction booklet. While this is all impressive what makes it even more appealing is some of the unique tools that it contains to make it easier to do. For example, two of the brushes have been designed to help you get the effects that you need. Then the special lens helps you see up close so you can create the fine details that make any picture more realistic. Other professional artists have put kits out on the market that provide the supplies and instructions like the one from Amazon offering the Martin/ F. Weber Bob Ross Master Paint Set which sells for over $59. but doesn't seem to have any unique tools with it.
Final Paint Your Pet Review
We are going to give the Paint Your Pet a solid thumbs up rating. First of all the kit comes with everything you need. Although some of the items will need replacing like the paints and canvas for example, these are items that can easily be purchased from any supply store. Then there are the forms of instruction which are both readable and visual, so they cover easy learning methods for those that prefer to learn either by reading or watching. Then the added bonus of the free lessons allows the user of this product to expand their learning. These are all important features that make this product true value for the money paid for it.
Our Recommendation
We have covered a lot of good reasons why we think this product would be a good investment. In addition to all of this it would make a perfect and affordable gift for almost any age group. Young "would be" budding artists will certainly learn from it and it would boost their confidence. For older people who are looking for a simple and inexpensive hobby it is ideal. For pet lovers its just one more way for them to preserve the memories of their pet with a special touch. It is always important to stimulate the creativity of young children and while this particular kit may be too advanced for them, a product that might be beneficial to start them off on their artistic endeavors would be the Pattern Painter which we reviewed in the past.
What do you think? Does the Paint Your Pet work or not?