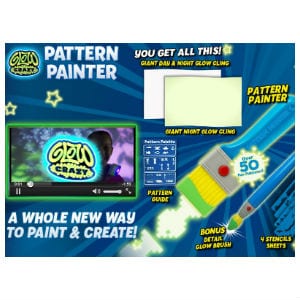 The Pattern Painter is a way for kids to paint using a special light brush on a special drawing surface. The advantages would be that they can't make a mess with it, as it only works on the paper it comes with, so the real question is whether it works or not.
Overview
Stimulating your child's mind is one of your main roles as a parent so that they are able to express themselves fully and have lots of different avenues for creativity. It can be hard sometimes because there are only so many different toys and artistic supplies that you can give them, and if they get bored easily you may find yourself quickly out of ideas. But luckily there are plenty of companies out there hard at work trying to make new and innovative toys for them to try out.
The Claim
The makers of Pattern Painter point out that their gadget changes patterns with the press of a button, and can also go freehand so that your child can simply draw with it. They say that with the two included clings your child will be able to use it both in the daytime and when the sun goes down, because the patterns glow, but can also be seen with the lights on with the daytime pad. They say that the main unit has over 50 different patterns, there are also stencils that can be used to make additional designs.
They say that the glowing patterns you make will fade away, so you can use the same clings again and again. While at first this sounds good because you won't have to keep reordering more clings, it's also kind of a bummer because if your child makes something really impressive it'll eventually fade away. Taking a picture of their creations with your smartphone is a good workaround for that potential snag.
The Hype
Kid's toys always look super fun when they're shown on TV, so it can be hard to cut through all of that and try to determine how your child will actually respond to something like this. They may go gaga for it, and have just as much fun as the kids in the commercial, or they may find the idea of drawing using patterns boring.
The Cost
The Pattern Painter is listed at $20 plus shipping, which we're thinking is $10 or less. That gets you the big paint brush, the little paint brush, the guide so you know which patterns are in the big brush, as well as a total of eight stencils. When you compare this to a similar glowing product, the Crayola Glow Dome for right around $20 you see that it is in line with other products in the market.
The Commitment
You may have to demonstrate this to your child the first time, but more than likely they'll catch on pretty quick and it should keep them entertained and busy for a bit. Of course it's up to you and your parenting style as far as how involved you want to be with their artsy time. It also depends on how old they are, and whether they still need guidance to make anything decent looking, or whether they're old enough to autonomously create things, or follow the included guides.
Evaluation
The Pattern Painter looks like it would be fun for a child that has never played with any sort of glowing drawing product like this. If your kid has already played with other glowing products like the Glow Crazy Doodle Dome they may be a bit underwhelmed. If they seem to be a bit bored making patterns, show them that they can switch it to a regular marker and can then draw whatever they want with it.
Final Pattern Painter Review
The Pattern Painter is getting our Thumbs Up rating because it provides a nice new way for your child to show their creative side, and painting with lights is just plain cool. As a parent it's good for you because it's a mess-free way for them to go crazy and do whatever they want, and if they try to paint on the walls it just isn't going to work. You may want to keep the clings in a room with walls you don't really care about anyway, because they might get the idea to use other markers or paint brushes on walls.
Our Recommendation
If your child is age appropriate for this we'd suggest it as a good buy for them, especially if they like to draw and make their own unique creations. There are a few different light-based drawing toys on the market these days, and this is one of the better ones we've seen. It includes everything you'll need to get your child started with it, and should keep them engaged for quite some time.
What do you think? Does the Pattern Painter work or not?