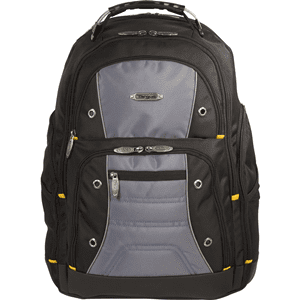 While summer is finally here and we are for the most part concentrating on all the fun that the season has to offer we still need to figure out and start planning for the eventual return to school for the kids. The product being reviewed today is an excellent backpack for those teens that need a good and durable bag to hold their personal effects and their electronic devices.
Overview
This is a well-made sturdy backpack that is fashionable and practical. It seems that every year the young ones expect a new backpack for back to school and for the upcoming year the Targus Drifter II is a great choice.
The Claim
The claim is that this particular Targus Drifter II is the perfect bag for those who need to carry a lot of stuff for the everyday functions required by school and those extra- curricular activities our kids are involved in a day to day basis.
The Hype
Much of the hype comes from the Targus name for the Targus Drifter II They are well known as the makers of really, really good backpacks and computer bags and this Drifter II is no exception.
The Cost
The cost of the Targus Drifter II is a respectable $69.99 A decent price point for a well- made and large bag of this sort. Yes, you can get cheaper bags but you will most likely need to replace it before the end of the year if the gear in it is heavy and puts a strain on the bag.
The Commitment
Not much in the way of commitment required for a good knapsack other than keeping it clean inside and out. It is easy for teens to forget that they have food in their bags which can be less than pleasing when you go to clean it out periodically…especially bananas!
Evaluation
The Targus Drifter II is an excellent bag for anyone who has lots of stuff to carry including a laptop up to 16 inches. The laptop area is fully padded and offers great protection for those valuable electronics being carried back and forth from school to home. The unit has multiple zippered pockets so you have plenty of space for books and other equipment and even a water bottle holder built in the side for easy access. The padding itself is ergonomically correct so that the loads are transferred across the pack properly so that your teens body is protected from strain and chaffing.
Final Targus Drifter II Review
Well- built and very durable the Targus Drifter II is an excellent bag for those active teens that need to carry a full complement of gear to and from school. Ergonomic and comfortable it is well designed and will make the chore of lugging stuff back and forth much easier and stylish as well. Thumbs us is earned by us.
Our Recommendation
If you have a teen that needs a new backpack for the return to school you cannot go wrong with the Targus Drifter II. Great product from a recognized manufacturer. As a alternative you may want to checkout this Dry Backpack.
What do you think? Does the Targus Drifter II work or not?