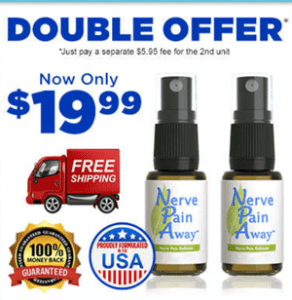 There are all kinds of pain that so many people have to deal with and finding solutions to help relieve it is not always easy. A common complaint that some diabetics have is nerve pain, so is there really anything over the counter to help relieve this, like Nerve Pain Away?
Overview
Nerve Pain Away is a topical solution that diabetics can use to apply to the areas where they are experiencing nerve pain.
The Claim
The promoters of Nerve Pain away claim that is a solution that is comprised of all natural ingredients. While they don't list all of the ingredients the one they do talk about is hypericum perforatum which sounds pretty impressive, but what it is actually St. John's Wort.
The Hype
The hype for the Nerve Pain Away is with the focus being put on this as being a homoeopathic treatment comprised of natural ingredients.
The Cost
The sellers of Nerve Pain Away are offering a double order for the price of $19.99 along with a shipping fee of $5.95.
The Commitment
To use Nerve Pain Away it seems pretty straight forward as all you have to do is apply it to the affected area.
Evaluation
So the issue that Nerve Pain Away is addressing according to their promo material is the tingling, burning and numbness that comes with what is classed as diabetic nerve pain in the hands and feet. This brings us back to the active ingredient which is basically St. John's Wort. The concept of using this for diabetic nerve pain is not a new one and it has been promoted for this in the past. However, a lot of the research and findings that have come to light are indicating that there is no substantial proof that it has any value for this type of problem. Yet there are still those who firmly believe in all the potential medicinal qualities that St. John's wort has for other types of medical conditions.
Final Nerve Pain Away Review
Neve Pain Away appears to be a new product to hit the market and as such there isn't much by way of support in regards to users. Although the promo site does list some testimonies, but one has to take these at face value. The conclusion that we have reached is that this is a Try/Buy product in the event that you are willing to give anything a try.
Our Recommendation
Do keep in mind that diabetics have to be extremely cautious about anything they are trying for medicinal purposes no matter whether it is considered natural or otherwise. Before going ahead with Nerve Pain Away you may want to talk to your health care provider first. We have looked at other products concerning neuropathy with one of these being Neuroveen which is supposed to be safe for diabetics but this is not a topical product so again the same warnings apply.
What do you think? Does Nerve Pain Away work or not?