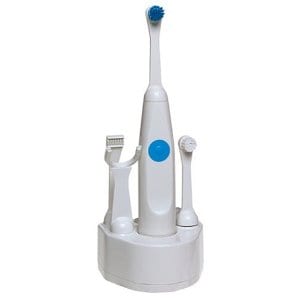 The Cybersonic toothbrush is one that has been around for well over a decade, and was one of the first electric toothbrushes on the market. It still bills itself as having the fastest strokes per minute at 45,000. No other toothbrush on the market is willing to state their revolutions per minute data, so this alone puts it in a class by itself. But let's examine whether that results in a better product or not.
Overview
When choosing an electric toothbrush you have to consider all of your different options. The brush has to be powerful, cordless, have a well-designed brush head, and a good reputation and user feedback. We put the Cybersonic through all of these litmus tests, and it seems to come through on the most important features.
The Claim
They say that their newest model, the Cybersonic 3, is the most advanced electric toothbrush system ever created. They also claim to have set the standard with a combination of new technology and a simple design. Their claim of 45,000 strokes per minute is pretty unverifiable, it's not like it's something you can count. But there's no real reason to doubt the claim, as it seems like something they could pull off.
What We Like
Since Cybersonic has been around so long, they've had time to fine tune it and make improvements year by year. This isn't just a battery-powered toothbrush, but really a complete system that combines brushing, flossing, tongue scraping, and even tooth whitening. All of these different heads utilize the same sonic action and 45,000 revolutions per minute. If you thought you were scrubbing your tongue before, wait until you add some sonic power to it.
We also like that they developed an eco-friendly model. Their Eco Edition is a redesign that uses less electricity, and comes with less packaging involved, as well as other improvements that help you go green.
What We Don't Like
Even though they say this toothbrush is safe on any dental work you've had done, it begs the question how fast is too fast? Isn't it possible to have too many RPMs? How does it effect your tooth enamel. They do include a soft brush, which is what dentists recommend, so hopefully that is enough to make it safe for your teeth.
The Cost
The unit itself is $99.95 plus $11.95 shipping and handling. There are a bunch of add ons that you can get with this one, but the one that seems most useful is the recurring 3 month order of brush heads. It's so hard to remember when to change out your toothbrush, and at $8 every three months for new brush heads, that's more than reasonable.
The Commitment
You simply have to toss out your old toothbrush and start using the Cybersonic. It comes with a flosser head as well, so you should try that and see if you prefer it over conventional floss. Some users said they like it, while others say they are sticking with the old way.
Evaluation
One oddity is why a major oral care company like Crest or Colgate hasn't bought the Cybersonic and released it on a larger scale. It still seems to be a small to medium sized product that hasn't gone mainstream the way Sonicare or Oral-B electric toothbrushes have.
They also include a timing system that might take a little getting used to. The unit itself will make a little shift when it's time to change quadrants of your mouth. Do upper right until it shifts, then switch to lower right, then upper left, then lower left, then the front.
It pretty much has everything you need, and nothing you don't, so it remains simple yet effective. IT's got the charging light so you know when it has finished charging. It's got a charger that isn't big and bulky, so it travels easier. It also comes with a travel case so you can store it easily when you're on the go.
If you don't currently scrape your tongue, it's something dentists recommend for better breath and better overall oral health. Some toothbrushes include it on the back of the head, or you can buy a tongue scraper for that specific purpose. The Cybersonic comes with a tongue scraper head so once you juice it up with the 45,000 RPMs your tongue will never be the same.
Final Cybersonic Toothbrush Review
We're giving the Cybersonic our Thumbs Up review, and cite the fact that the company has been producing basically the same toothbrush for a long time, and hasn't stopped tinkering with it and making it better. We see the value in getting the replacement heads shipped every three months, because we're always forgetting when the last time was that we changed our toothbrush. It's pretty important to change it out, and this is a set and forget way to get reminded, and is not very costly at all.
Our Recommendation
The Cybersonic toothbrush deserves a try if you're definitely going to get an electric toothbrush. It definitely spins fast, who knows if it's 45,000 times per minute, but who cares? You can tell the difference between a Cybersonic and any other electric in this price tier. Even if you don't end up using the flosser or teeth whitening it comes with, you should get a lot of use out of the brush and tongue scraper attachments to justify the purchase.

What do you think? Does Cybersonic Toothbrush work or not?