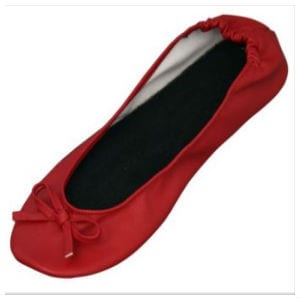 Dawgs Bendable Ballet Flats are meant to be carried around in your purse and slipped on whenever you get the chance to get out of your heels or other ill-fitting footwear. The workplace is full of double standards, from the unequal pay to the differences in what is considered appropriate business attire. In many settings, heels are basically expected since they complete the look of a professional businesswoman. But can these flats give some workday relief?
Overview
The workplace often requires professional dress, but when you're at your desk you don't really need to be in your heels any more. The only problem is that lugging around a pair or shoes you can switch into can be burdensome and almost not worth doing. The idea here is that you can have your replacement shoes at the ready, easily stored in your purse and ready to be popped out when needed, and when appropriate so that you can give your feet a break.
The Claim
The makers of Dawgs Bendable Ballet Flats say that because they're bendable you can easily store them in your purse and have them at the ready whenever you get the chance to swap them out. By making these foldable, and allowing them to retain their shape when unfolded, they've basically equipped you with a way to have the shoes you really want to wear, wherever you may be. Heels might be good for keeping up appearances, but once you're settled in, they lose their purpose and are just a nuisance.
The Company
The Dawgs company makes a lot more than just ballet shoes. They have a rather large assortment of products, ranging from boots and shoes to bendable flip flops, and even socks that snap together so you don't lose them in the wash and don't have to pair them up after they're dry. It's a rather unique company that gets lots of positive feedback on their various items, and seems to have a strong focus on customer service and quality products.
The Cost
This is where Dawgs Bendable Ballet Flats make their strongest case. They're just $15 a pair, and they come in 5 different styles. If you're looking for the pair that will go with most of your outfits, they have them in black, and also patent black for a more professional look. The shipping is free if you get two pair or more, and this is almost advisable since their standard shipping on one item is $10 it's like getting a second pair for just $5 more.
The Commitment
These should provide relief to aching feet that have been in heels all morning, or any other type of shoe that isn't comfortable. Since they're lightweight and fold up easily, they shouldn't require you to change your daily routine too much, and you might even find yourself being more productive and in a better mood when your feet start feeling better. It's basically a traveling shoe, which might sound odd at first, but is something that many of us have wished for in one form or another.
Evaluation
They are definitely trying to reach a certain niche with Dawgs Bendable Ballet Flats, and if you're in the market for a pair of comfortable shoes to wear around the office, these might do the trick. They're stylish enough so that they can still look professional, and they're as comfortable as having your favorite pair of slippers from home. The way they wear makes them look like an ordinary flat, so few will suspect that you're feeling so good in them.
The drawbacks to wearing high heels:

As you can tell from the video above, the reasons to stay out of your heels as much as possible are clear. It's not just because your feet are aching, it's because you're setting yourself up for foot and leg problems and disorders the longer you wear them.
Final Dawgs Bendable Ballet Flats Review
Dawgs Bendable Ballet Flats are getting the Thumbs Up rating, based on how comfortable they are, and how they figured out a way to make it easy to carry a pair of shoes with you. Like many quality ballet shoes, when these are on they're light enough and form-fitting enough to feel like you're barefoot, but with the protection you'd want and the style you need to still look good while being comfortable. When you compare these to regular ballet shoes or other flats, the difference is clear, as these are much easier to store and still retain their shape and are ready when needed.
Our Recommendation
These are the right shoe at the right price for most people that have found themselves wishing they had a portable replacement shoe for their office-mandated heels or dress shoes. If you've struggled with what to do about your feet and couldn't figure out how to travel with an extra pair of shoes, this is the answer.
What do you think? Do Dawgs Bendable Ballet Flats work or not?