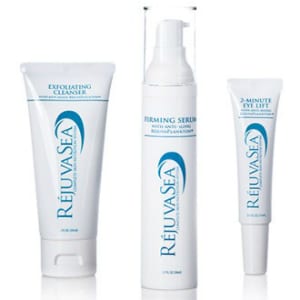 The premise of Réjuvasea is that it's a comprehensive skin care system comprised of exclusive ingredients that have recently been found in the ocean. The major draw here would be the exclusivity, as they claim you can't find it anywhere else, in any other product. It's an interesting angle, and one that just begs the question of whether or not it works, so we went to work for you.
Overview
The skin care industry is huge, and only getting bigger as people put more and more emphasis on the skin. It ranks high in anti-aging efforts, as the skin is one of the first things to show signs of aging, and there are lots of different ways it starts breaking down. You should definitely be doing something good for your skin each day if you want to keep it supple and youthful looking, and especially if you want to try to undo some damage, or bring it back to the way it once was. The trick is finding the right product, or combination of products for success.
The Claim
The big claims being made by the makers of Réjuvasea is that it is based on a breakthrough in marine science. If you get involved with the narrative, it comes from a type of plankton that has recently been taken out of the ocean and found to have powerful antioxidant properties to it. This helps keep your skin moist, smooths over rough patches, and they claim works on the cellular level to help boost collagen levels.
The Hype
The hype is on their talk of RéjuvaPlankton being harvested off the coast of Spain. Whether it's true or not doesn't matter, it's just a sign that we as consumers need to be told a story about a product before we're willing to consider using it. Does it really matter where it comes from, whether it's exclusive or not, or what sort of testing has been claimed to have been done? All that really matters is whether it works when you use it, which only really gets answered by using it.
The Cost
It's $39 for a suite of three different Réjuvasea products, which saves you $10 when purchased in a bundle and ships free. The three products are a 2 minute eye lift, a firming serum, and an exfoliating cleanser. They sell the products individually, which is nice if you find that you end up running out of one more often than the other, or you just don't see results with any of the three. The supply should last you a month with normal use. They also offer a 30 day trial by just paying shipping of $8, and then paying for the supply 30 days later if you don't cancel.
The Commitment
Skin care requires a daily regimen for maximum effect. These products are supposed to be non-irritating, which suggests that you should be able to use them everyday without a problem. At the same time you need to listen to your body and see how it's reacting. If you notice that one day you don't really need to use the eye lifter, you can pass on it and just use the other two products in conjunction with each other.
Evaluation
Réjuvasea appears to be making a valid effort at bringing a high quality skin care product to market. In today's day and age, this is sadly not the case with many companies out there. That's why many consumers are twice bitten and once shy when it comes to being sold on a new skin care marvel. It might be easy to get swept up in the idea of this being some new breakthrough that's exclusively theirs, but what you should really be looking for is something that makes you skin look and feel better than it currently does. And in that respect the feedback is positive.
Things We Like
We like that the reviewers that were sent free products to review were not required to post favorable reviews. It's still something of a gray area though, because as the reviewer you know in the back of your mind that a positive review is going to lead to more potential sales. It would be better if they were able to elicit more unbiased testers to feature as reviews of their product. It is nice to know that there is actually a product that looks like a duck and quacks like a duck, rather than just a miscellaneous website that has no psychical proof that a product even exists.
Things We Don't Like
We don't like that the pages for the "Try It and Love It" guarantee, Customer Service, and the Return Policy are all missing. These would be crucial pages you'd want in place if you plan on instilling confidence in potential customers. But since they do allow you to buy it outright without forcing you into the trial offer with recurring payments, it somewhat makes up for this.
Final Réjuvasea Review
The social signals point to Réjuvasea being a quality product, perhaps not an amazing breakthrough as they claim, but a solid skin care line nonetheless, and well worth the asking price. How well you enjoy it will depend on your condition and type of your skin, which is unique for each individual. All you can really do is look at the overall data and see if the averages are in your favor. In this case they seem to be, and only a first hand trial will prove it conclusively.
Our Recommendation
We recommend putting up the full price for this to have them bill you for it upfront, and then taking advantage of their money back guarantee if you don't like it. Too many times people sign up for a "free" trial, pay the nominal shipping price, and then forget to cancel within the time allotted, in this case 30 days. Then charges pop up on credit cards, and they have to be reversed, and it becomes a matter of responding in time and more often than not it includes an unnecessary headache. The product seems to stand on its own, and is worth a trial, but do it on your terms.
What do you think? Does Réjuvasea work or not?